This site contains nudity and adult material dealing with the CONSENTUAL practice of women in bondage.

Centaur Celluloid does NOT condone violence against women in any way.
This site depicts sexually explicit images and video of women who enjoy engaging in the CONSENTUAL role playing of women bound and gagged for bondage
and damsel in distress video and photographs.

You MUST be above the legal age in your area (at least 18, but 21 in some states) to view the material depicted within this site.
If you are not of legal age to view this site, YOU MUST LEAVE IMMEDIATELY

In order to view this site, you must agree to the following statements:

1. I am at least 18 years of age or older or the minimum age required in my state or country to view
the material contained within this website.

2. I will not reproduce, copy, post or transmit by any means whatsoever the copyrighted photos and
video clips within this website.
COPYRIGHT NOTICE: Any and all content on this site, including images and video, are copyright protected pursuant to the DMCA, 15 USC Section 506,
and is the lawful property of the Custodian of Records as depticted below.
NO distribution or posting of any content is allowed.
The content on this site is being tracked and WILL be removed if posted or distributed without permission.
Violators WILL be banned from our sites without any refund. Violators
WILL be banned from any and all tube sites.
Moreover, any and all violators will be personally prosecuted by the copyright holder as depicted below, and by attorneys of same.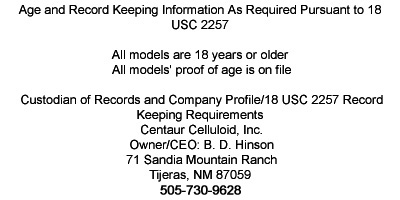 New video: Natasha Flade and Kordelia Devonshire star in Damsel Bondage Queens!
PRIVACY POLICY
Centaur Cell
This site contains nudity and adult material dealing with the practice of bondage,
including bound and gagged girls and sexually explicit material. Centaur Celluloid features bondage pictures and bondage video clips of Natasha Flade and other bondage models. This site contains video and photos of girls being abducted, grabbed, handgagged, bound, gagged, stripped nude and fondled. See Natasha Flade and other girls in rope bondage, light bdsm, forced sex fantasy and abduction and intruder bondage. Our captives endure hogties, barefoot hogties, chair ties, post ties and some suspension. We also tie our hot damsels spread eagle. Also see bondage pix, bondage photos, bondage videos, bondage dvds, bondage mpegs, ball gags, duct tape gags and more!