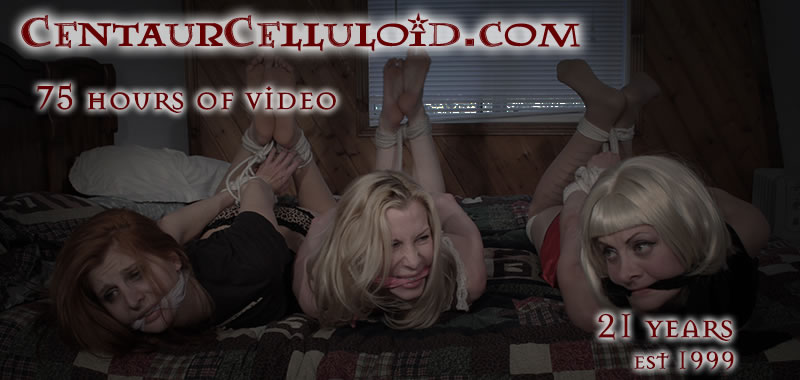 LINK FOR HOT BONDAGE EROTICA BY ISAAC W.
November 29 - (12 min.) NEW MODEL! NEW FOOTAGE IN FULL HD! We discovered UNSEEN footage from about 10 years back with dear friend Nakita!

Nakita sits at her dining room table reading when a hand clamps over her mouth! She's handgagged with a gun to her head! Nakita complies with the masked intruder and puts her hands behind the chair so she can be tied up. The intruder is here to ransom her off to her dad. After her hands are bound, her thick thighs are tied next, followed by her ankles, with closeups of her high heels.

Nakita is protesting a bit much, so her mouth is stuffed with a white cloth, then it's tied in place as a nice two-piece cleave gag ensemble. This beautiful woman is in perfect thick girl bondage! The intruder whips out a camera for some pics to send away to get the ransom money. As even more motivation, the top of her dress is pulled down and pics are taken of her all chairtied in her sexy black bra. It's still not enough to satisfy the masked man, so her big tits are extracted from that bra and the last photos are taken. Are these really for the ransom or are they for the intruder's personal collection? We'll never know!

The intruder leaves with his booty of ransom pics and poor helpless Nakita struggles and mmphs in her thick girl bondage, her big exposed tits jiggling!
November 21 - (6:30 min.) FULL HD! You're a student who happens to have a crush on his beautiful teacher, Natasha Flade. You daydream constantly of her all tied up and gagged. In your fantasy, your teacher Natasha is on the floor in nothing but her bra and panties. Her wrists are bound behind her back, her ankles tied, and she's been ballgagged again! Natasha struggles angrily. She sees you looking at her and is furious that you've got her bound and ballgagged again! And her dress has been removed!

She glares at you, trying to make you let her go. She begs and pleads, but that doesn't work, either. And so Natasha keeps on struggling vigorously and screaming through her gag. But it's useless because that huge ballgag keeps her cries unintelligible. Then she notices you staring at her. She stares right back at you. She pleads then resorts to angry outbursts to let her go. But you don't want to do that. She's too good to look at bound, ballgagged and barefoot! And all the drool pouring from her beautiful lips!

But Natasha doesn't give up. Eventually, she manages to stand up and starts hopping to the door, then unlocks and opens it. She turns round to glare at you once more, her eyes screaming, "You can't keep me!" Your tutor then proceeds to hop right out the door. But you still have your chloroform, so you know she won't get very far…
November 14 - (14:50 min.) FULL HD! Tall, blonde Sara Liz is in the bedroom getting ready to settle down for the night when her boyfriend enters with a drink in his hand and a smile on his face. What she doesn't know is that he gave her a spiked drink! He leaves the room and Sara spirals into unconsciousness. Her man returns and finds her limp body on the bed.

He strips her naked, then ties her spread eagle on the bed while she's out cold. Her bare feet and soles are sticking straight out while they're roped to opposite bedposts. All her private parts are on clear display as she lays there, tied up spread eagle and naked. Sara awakens to find that she's been bound spread eagle on the bed! She tries begging for help and gets a huge wad of cloth shoved into her mouth and layers of duct tape on top.

What poor Sara doesn't know is that her boyfriend drugged her up so his friends could have some fun! She panics as she hears her boyfriend makes a phone call to let his friends know of the surprise he has in store for them — her all tied and tapegagged naked on the bed! He says she didn't properly serve his friends food when they were over for the game, and now he's serving her to them! When her boyfriend leaves to get things ready for the party, she struggles wildly and attempts to call out for help. Sara Liz isn't having a very good night, but her boyfriend and his buddies sure will! (And so will you!)
COPYRIGHT NOTICE
Any and all content on this site, including images and video, are copyright protected pursuant to the DMCA, 15 USC Section 506, and is the lawful property of the Custodian of Records. NO distribution or posting of any content is allowed.

The content on this site is being tracked and WILL be removed if posted or distributed without permission. Violators WILL be banned from our sites without any refund. Violators will be prosecuted by the copyright holder Centaur Celluloid and its attorneys.
This site contains nudity and adult material dealing with the practice of bondage, including bound and gagged girls and sexually explicit material. Centaur Celluloid features bondage video and photos of Natasha Flade and other models.