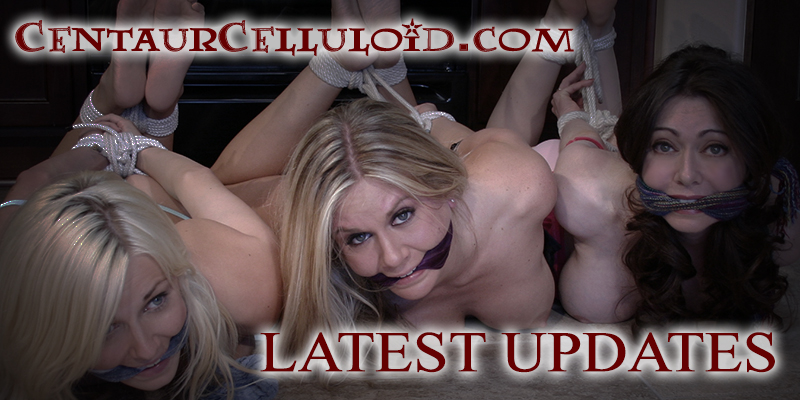 | | |
| --- | --- |
| December 28, 2021 | Nude & Barefoot Danielle Trixie Tied Spread & Ass-Up, Cleave-gagged and Struggling FULL HD – 6:03 MINUTES |

RE-EDITED IN FULL HD! Super fetish model Danielle Trixie is bound spread in an "X" on a dining room table, tummy down, ass up, nude! Her captor comes in and gives the whining, totally nude hottie a knotted cleave gag. Form here, it's a classic struggle bondage clip. She writhes and mmmphs in her gag as we are treated to wide shots of her glorious nude body all tied up. Also closeups of her gagged face, her sweet soles (she's barefoot, too!), her perfect ass and pussy! She writhes in her naked helplessness and remains helpless.
| | |
| --- | --- |
| December 21, 2021 | Secretaries Amber & Emily Tied Strappado, Stripped & Groped by 2 Men for Ransom Video FULL HD – 12:30 Minutes |

RE-EDITED IN FULL HD! Secretaries Amber Michaels and Emily Marilyn have been kidnapped by two thugs with plans to ransom them off to their fathers! First, Amber is carried into the cabin hideout, already bound hand and foot and stuffer gagged. She's tied, strappado style, to the stair railing in her office attire: skirt, pantyhose and high heels. Next, Emily (wearing secretary attire) is carried in tied up and gagged, then the two men rope her strappado style to the railing next to Amber.

The two damsels are left alone to struggle for a bit while the their kidnappers rummage through their purses. But they soon return. They pull Emily and Amber's blouses down so they can grope and fondle their (huge!) tits for the ransom tape. They shoot video and photos of each other with their hands all over Emily and Amber's tits. "I'd hate to see my daughters abused this way!" the kidnappers joke into the camera. These two captors are having one helluva a good time with this ransom business (and those boobies!)

The men leave to send the footage off to Emily and Amber's fathers, and our two secretaries are left to struggle once again, now topless and boobs jiggling. When the two captors get no reply to their ransom demands, they decide to pull down their pantyhose and panties to expose their asses and pussies. More photos and video are taken of the mostly naked Amber and Emily. The two captors laugh as they shoot more footage of each other playing with their captives naked bodies.

They're having a lot of fun at this ransom business! Getting paid for groping two gorgeous bound and gagged gorgeous women! That is, if the ransom money comes in. And if it doesn't, they have two tied up naked ladies to play with for…who knows? Maybe forever? Who is going to find them in this remote cabin hideout?
| | |
| --- | --- |
| December 14, 2021 | Sexy Real Estate Agents Quimm & Natasha Post-Tied, Gagged & Groped by Client! FULL HD – 18:50 Minutes |

RE-EDITED IN FULL HD! Natasha Flade and Quimm Anaheim (in sexy glasses) are real estate agents showing a house to a prospective buyer (Isaac W.). Both ladies are in their office attire (business suit, skirt, pantyhose, and high heels). They enter the bedroom, but then the client pulls a gun! He ties them standing to the large posts of the bed.

Natasha and Quimm are angry at this turn of events and demand to know what's going on. Their complaints are getting on his last nerve. So he stuffs cloth in their mouths to make nice packing gags. More ropes are applied to their ankles and wrapped around their chests. He tells them his plans to use this house as a hideout, then he leaves them to struggle in their bondage, both bound standing to bedposts and packing gagged.

Our two unfortunate real estate agents make a good effort to get loose, fighting at the bonds that keep them captive. But they don't succeed before their captor returns. He renders both ladies topless and molests their titties. And molests those titties some more. He just can't keep his hands off those breasts! Two pairs of boobies to play with! What luck these real estate agents turned out to be such hot chicks.

But he must attend to his business, so he forces himself to stop groping their breasts and leaves them alone once more. Now Natasha and Quimm struggle topless. Guess there's no commission to be made today..

Some fun outtakes are included at the end!
| | |
| --- | --- |
| December 7, 2021 | Panty Gagged Madness! Amber Michaels & Emily Marilyn Barefoot Hogtied, Panty Gagged by 2 Masked Men! FULL HD – 11:48 Minutes |

RE-EDITED IN FULL HD! Amber Michaels and Emily Marilyn are chatting on the sofa – one in her bra and panties, the other in a long, sleep t-shirt, when two masked men waltz in wielding a really big knife! The two ladies are ordered to put their hands behind their backs to be tied up. The two home invaders then force Amber and Emily to stand up. Emily's panties are stripped right off.

She's ordered to open her mouth and one villain shoves a wadded rag inside. Emily's eyes grow wide as she's gagged — the wadded stuffer being held in place with a scarf. Amber is next and suffers the same fate! She tries resisting, but it's no use. The wad goes in, but there's some trouble gagging her, so both men must tackle the job. Blonde Amber must endure being gagged with not one, but TWO gags!

They're then forced to get down onto the floor on the bellies where they're strictly hogtied with elbow ties. Emily's bare feet are bound crossed. Amber's ankles are tied next but her lovely soles are left uncrossed. Once the men have their captive bound and gagged on the floor, they taunt the two damsels some more before leaving to rob the place.

Emily and Amber start struggling as best they can, trying get loose from their bondage before the two home intruders return and give them more of the same treatment – or worse! Great closeups and arial shots of their pretty soles wiggling about, as well as Emily's bare ass and Amber's panty-clad buns. This bondage video has enough action to keep you cumming for days! Plus we've got some outtakes for you at the end, too!
| | |
| --- | --- |
| November 30, 2021 | Barefoot Beauties Quimm & Natasha Handgagged, Hogtied & Topless in Nighties! FULL HD – 13:30 Minutes |

RE-EDITED IN FULL HD! Bondage nymph Quimm Anaheim is in the bedroom in her little nightie when she's set upon by a home intruder! Quimm's handgagged and wrestled to the floor, then hogtied barefoot and cleave-gagged. Roomie Natasha Flade comes in and discovers her roomie bound and gagged on the floor. She tries to help, but the intruder handgags her, too! Natasha ends up hogtied and cleave-gagged in her nightgown, too, right beside her friend. Both damsels struggle on the floor, their bare feet and soles wriggling delightfully in the air, and wondering what will happen to them next.

Then the home intruder returns! He decides he wants to see his two damsels topless, so he pulls their nightgowns down. And their tits are simply too tempting and he has way too much fun playing with two pairs of tits. If that's even possible... Having satisfied his urges, he leaves the bound and gagged beauties alone to struggle, hogtied barefoot and topless in their nighties with their boobies jiggling!
| | |
| --- | --- |
| November 23, 2021 | Secretaries Chloe Night & Natasha Flade Kidnapped & Hogtied In Old Barn!! FULL HD – 20 Minutes |

RE-EDITED IN FULL HD! Secretaries Natasha Flade and Chloe Night have been abducted and taken to a remote location in the middle of nowhere. Both hotties are in dresses, pantyhose and heels. This video is shot (mostly) POV style with you as the captor, forcing all the action. With your gun pointed at Chloe, she's forced to push Natasha into an old, abandoned barn. Then you make her place Natasha on the hard floor and tie her. You keep throwing Chloe more scarves to tie up Natasha until she's strictly hogtied with scarves and her elbows bound. Next, you order Chloe to gag Natasha with one silk scarf as a cleave and a second knotted scarf for a double cleave-gag ensemble. Lastly, you make Chloe blindfold Natasha.

You send Chloe on an errand to go back to the car and get your cigarettes. Natasha is left alone, strictly hogtied with scarves, and wriggling right at your feet. You enjoy the show, but then Chloe returns. You turn your gun on her and tell her to get down on her belly next to Natasha! She complies, and we cut to Chloe also strictly hogtied (with rope), cleave-gagged and blindfolded right next to Natasha! Both tied-up secretaries struggle and wriggle all about on the hard floor of the abandoned barn.

Then you get the idea to switch their gags! You remove the their gags and replace them. Natasha is ballgagged with a huge ballgag shoved into her mouth, then Chloe is tapegagged with several layers of duct tape. Now you have two secretaries in office attire strictly hogtied together at your feet on the dirty barn floor!

At the end the camera is left rolling for some great outtakes! You get to hear these two bondage models chat as they remove those pesky scarves and try to get over their "hogtied headaches," as Natasha loves to refer to them!
| | |
| --- | --- |
| November 17, 2021 | Secretaries Emily Marilyn & Amber Michaels Tricked into Bondage by Their Bosses, Chair-Tied & Groped! FULL HD – 12:08 Minutes |

RE-EDITED IN FULL HD! Gorgeous secretaries Emily Marilyn & Amber Michaels, still in their high heels, stockings and garters, walk into a cabin with their bosses, Isaac W. & Sergio. They all work for an alarm company, and the two bosses have convinced their new secretaries to take part in a new marketing campaign. This new campaign involves the two bosses taking photos of Emily and Amber all tied up to chairs as for scare tactic marketing. The two secretaries absolutely love the idea and happily allow themselves to be chair tied with lots of rope. Once they're both bound, their bosses shoot some photos. But then they announce that Emily and Amber must be gagged as well, claiming that is much more realistic of what would happen in a real robbery!

Amber and Emily are a bit dubious now and wondering what they've gotten themselves into! But they can't exactly do anything, seeing as they've let themselves be all tied up. Helplessly, they sit there in their predicament as they're simultaneously cleave gagged by their bosses. What a scene! But when the two bosses strip the ladies topless and start groping their tits, the ruse is up! They've been tricked into bondage! There wasn't any marketing campaign at all, it's just been a scam all along! Emily and Amber's bosses really just wanted to get them tied and gagged in their sexy stockings and heels so they could play with, fondle and grope their hot bodies and tits. And grope these two men do! Isaac and Sergio laughingly inform their two secretaries that they hope they didn't have any plans for the rest of the weekend! Amber and Emily are horrified at this, and start struggling to get away before who know what else happens. What on Earth are poor Emily and Amber going to do now, chair tied topless in their office attire in some cabin in the middle of nowhere! Will someone come looking for them or they doomed to be their bosses' bondage playthings for the entire weekend – or even longer?! Buy the video and find out!
| | |
| --- | --- |
| November 9, 2021 | Lost In the Woods, Buxom Kordelia Devonshire Gagged & Groped, Marched Off to Captor's Cabin FULL HD – 14:30 Minutes |

BAREFOOT BONDAGE RE-EDITED IN FULL HD! Buxom, blonde Kordelia Devonshire was lost in the woods while hiking when she encounters a kindly stranger who says he'll point her in the right direction. But when she's not looking, he grabs Kordelia and handgags her! This is nearly a full minute of Kordelia being handgagged, so a big deal to the handgag fans out there. Turns out he's not so kindly after all! He ties the damsel's hands behind her as she tries to fight him off. But he manages to get her wrists tied, then plops her down upon a rock to finish tying her up. Kordelia is bound seated on that rock in her jeans, boots and tight, camisole top. She's tied at the ankles and thighs, and strictly elbow-bound, too.

Now for a good gagging to keep her quiet! Her captor packs her mouth with cloth, then wraps a scarf over that. He tells Kordelia that he's going to get his pick-up truck so he can throw her into the back of it and take her back to his cabin! He leaves to go get his truck, and busty, blonde Kordelia is left alone in the wilderness, strictly tied-up and double gagged in the middle of nowhere. She starts to struggle and cry for help.

But her captor hears her and returns! As punishment, he strips Kordelia topless, pulling down her camisole and peeling back her bra cups. Those tremendous tits of hers are way too much temptation! He gropes and fondles Kordelia's exquisite boobs. He still needs to get his truck so he can transport this hot babe back to his abode, so Kordelia is left alone in the woods once more.

Kordelia struggles and wriggles all about, her huge (and natural!) tits jiggling everywhere! But she fails to get loose in time. Her captor returns, unties her legs, and marches her through the woods, bound and gagged, so he can throw her into his truck. What's going to happen to poor Kordelia once she's transported to this crazy dude's cabin?

Outtakes included at the end!
| | |
| --- | --- |
| November 2, 2021 | Secretary Danielle Trixie Kidnapped by Natasha for Hogtied Backseat Ride to Hideout - Part 2 FULL HD – 13:11 Minutes |

BAREFOOT BONDAGE RE-EDITED IN FULL HD! This is Part 2 of the "Kidnapped & Double-Crossed" saga starring sexy secretary Danielle Trixie and the beautiful kidnapper, Natasha Flade! In part one, Danielle was on her way to the office when she's kidnapped by Natasha at gunpoint! She was tied up and gagged, thrown into the backseat of a car and transported to a hangar to be stashed until she's sold off as a bondage slave! Once at the hangar, Natasha marched the blonde secretary, hands tied behind and cleave-gagged, to a waiting chair. She forced Danielle to sit down, then tied her ankles and thighs together. When Natasha left to grab more rope, Danielle struggles anxiously and mewing from behind her gag.

Now, in Part two, Natasha strolls back in with a handful of rope. She secures Danielle to the office chair with lap ropes. (Great up-skirt shots here!) She tells Danielle that the slave ring owners need to see the goods they bought, so she rips her blouse down and peels back her bra cups. Danielle's huge breasts are simply amazing! Natasha wraps more rope around Danielle's chest to secure her to that chair, then she leaves to attend to some kidnapping business.


Natasha returns with Isaac W., the pilot she hired to whisk away the chair-bound and topless Danielle Trixie...but wait! He handgags Natasha Flade instead! Now the double-crossed Natasha finds herself roped to a chair alongside Danielle in her sexy sweater dress, pantyhose and high heels. The pilot says he was ordered to grab her, too, since she's beautiful, desirable and has outlived her usefulness as a kidnapper. Natasha is furious over this turn of events. She gives Isaac lots of lip, so he cleave gags her twice with two wraps of a thick scarf and a bandanna over that.


Then he pulls out her tits just for the hell of it. Why not see the goods, right? He leaves to make plans, so now we have two gorgeous damsels chair-tied topless in dresses, pantyhose and heels, awaiting to be shipped off as bondage slaves!
| | |
| --- | --- |
| October 26, 2021 | Secretary Danielle Trixie Kidnapped by Natasha for Hogtied Backseat Ride to Hideout - Part 1 FULL HD – 8:30 Minutes |

BAREFOOT BONDAGE RE-EDITED IN FULL HD! Blonde and beautiful secretary Danielle Trixie was about to get into her car and dash off to the office when Natasha Flade leaps out with a gun! Danielle is handgagged from behind and ordered to cooperate. Natasha binds Danielle's hands behind her back, then gives her a double-wrap cleave gag while taunting her with that huge gun held up to her head! Danielle's thighs and ankles are bound next, giving us some great shots of her terrific legs and those hot high heels she's wearing. Lastly, Natasha shoves her bound and gagged captive into the backseat of her own car! Danielle looks sexy as hell all dressed up in her short office skirt, pantyhose and high heels. Natasha is in a tight, red sweater dress and heels. If you're going to be kidnapped and transported to a hideout, might as well be from a super hot female abductor, right? Oh yeah!

We see poor Danielle being driven hogtied on a road trip to Natasha's hideout, all packaged neatly in her office attire, a super short skirt, pantyhose and stiletto high heels. Danielle struggles and kicks those heels against the car windows as she's being transported. But she can't escape! The ride terminates in an airplane hangar, where Natasha drags her bound captive from the backseat of the car. She unties her Danielle's ankles and marches her, still hobbled by her thigh ropes, to a waiting chair. What fate awaits this poor blonde bombshell?
| | |
| --- | --- |
| October 19, 2021 | Natasha & Star Tied Back-to-Back on Counter In Sundresses & Groped for Escape Attempt! FULL HD – 8:05 Minutes |

BAREFOOT BONDAGE RE-EDITED IN FULL HD! We begin with Star Nine bound and gagged in a little dress and barefoot, tied sitting atop the island in the middle of her kitchen. She's got a monstrous packing gag held in place with a thin cleave that her captor is finishing tying to her face. The abductor exits, leaving poor Star to struggle in her tight bondage.

Then in comes roommate, Natasha Flade, in an adorable yellow sundress and barefoot. She's shocked to find her friend all tied up and gagged. Natasha rushes over to untie Star, but the intruder pops back in and handgags her! Now we have two lovely damsels tied back-to-back on the kitchen island. Natasha's sporting a packing gag with a mile of ace bandage wrapped over that.

Star and Natasha both struggle and try to free each other, but without much success. Then Star remembers there are scissors in the kitchen drawer across from her, so she goes for it. She manages to open the drawer with her beautiful, bare feet, plucks out the scissors, brings them over close . . . . and then drops them onto the floor — out of reach.

Then the intruder returns and catches the two lovely damsels trying to escape! He punishes Star and Natasha by pulling down the tops of their dresses so he can play with their tits! This intruder truly enjoys having these beauties tied back-to-back so each hand can fondle two boobs at the same time! What a marvelous time! But eventually he leaves once more, and poor Star and Natasha are left alone to struggle, barefoot and topless, together.
| | |
| --- | --- |
| October 12, 2021 | Barefoot Natasha Flade In PajamasTied Up to Weight Bench, Nipple Pinched & Titty-Fucked! FULL HD – 7:35 Minutes |

BAREFOOT BONDAGE RE-EDITED IN FULL HD! Barefoot Natasha Flade is tied up to the weight bench in the garage! Someone came into her house, dragged her to the garage and roped her up in her pajamas. Her arms are tied apart to the bar bell, her bare feet roped to the padded leg lift bars. The intruder packed her mouth with a two-piece ensemble: a stuffer held in place with a cleave gag.

Damsel Natasha struggles hard in her bondage. The camera pans from her gagged face down to her bare feet and lovely soles, with plenty of barefoot closeups as her soles are wiggling right into the camera!

But the intruder who tied her there returns to play with his bench-bound damsel. He feels her tits through her pajama top, then he strips her topless, laughing as he's playing with her tits. Then he sucks on her titties and nipples as the damsel struggles to escape his grasp. This dude just can't get enough of these fine breasts!

Then he decides some titty-fucking would make a grand finale, so he pulls his hard cock from his jeans and rubs it on Natasha's bare tits, threatening to shoot his load in her face. A few more feelies and fondling of those breasts and then the captor just leaves her there, all alone in that garage, to struggle in her bondage on that weight bench. Who knows, maybe he'll come back for another round or two...
| | |
| --- | --- |
| October 5, 2021 | Barefoot Quimm Anaheim Triple Cleave-Gagged, Stripped Topless & Groped! FULL HD – 7:40 Minutes |

NOW RE-EDITED IN FULL HD! Quimm Anaheim is tied up to the bed in a seated position with her arms stretched out to opposite posts. She's barefoot, and her soles get nice closeups for this video. Isaac is there and intends on doing a bit of gagging. In goes gag #1: a thin cleave gag with two wraps. Gag #2: a long scarf that he gets 3 wraps in between her lips. Gag #4: A thicker cleave where he gets two more wraps around her head and through her lips. She's now seriously triple cleave-gagged!

Now having his captive with a mouthful of cloth, he unbuttons her nightshirt, getting her topless, and her tits are really fine. Isaac thinks, so, too, and Quimm is fondled and groped for a while. Isaac leaves the room and the poor damsel alone before. Quimm struggles in her barefoot bondage alone, but she's not getting loose, and that triple gag doesn't allow much noise!
| | |
| --- | --- |
| September 28, 2021 | Natasha Flade Hogtied Barefoot In Jean Miniskirt, Cleave Gagged and Molested! FULL HD – 6:13 Minutes |

NOW RE-EDITED IN FULL HD! Natasha Flade is barefoot and hogtied on the bed in a little jean miniskirt and cute little top. She's been cleave gagged with a thick, white scarf. Natasha struggles like mad to get free, but fails. Then her abductor enters. He crawls up on the bed on top of her and pulls her top up. He plays with her titties and sucks on her nipples while keeping her handgagged.

Then he pulls her miniskirt down and fondles her ass through her purple panties. Finally he leaves Natasha to struggle, now hogtied topless in her panties. Great shots of her wiggling bare feet and soles and, of course, that fine ass of hers!
| | |
| --- | --- |
| September 21, 2021 | Julia Faire Chairtied, Cleave-gagged, Stripped Topless & Groped by Stalker from the Bar! FULL HD – 13:30 Minutes |

NOW RE-EDITED IN FULL HD! Gorgeous brunette Julia Faire (with the HUGE tits) is chair tied, stripped topless and groped by a guy who followed her home from the bar in this 14 minute damsel in distress video clip. Julia Faire is in the kitchen in her low-cut dress and high heels when this guy she met at the bar earlier that night just comes barging right on in with a gun! He points it in the terrified girl's face while telling her she's just a dick tease who used him for a dozen drinks and then left, so he followed her home to "collect." Julia is horrified, of course, and she tremblingly refuses to have anything to do with him. But the guy just waves his gun and tells her that well, he'll have to "warm her up then." He grabs a chair from the dining room and orders Julia to sit down on it.

He takes a bunch of rope and ties her to chair. Her hands are tied together behind the chair back, then her bare ankles are tied up, too. She even gets the pleasure of some nice chest ropes, which make her big tits look even bigger! Very tempting cleavage! Julia tries to protest, but is rewarded by being cleave gagged with a really thick, white cloth. She then has to listen to this dude go on about how he's going to take her to the bedroom for some even better fun. But he can't wait that long; he strips our helpless chair tied damsel topless and starts REALLY groping her! It goes on for quite some time as he torments her by talking how much he's enjoying himself. Finally, the guy decides to take her back to his place after all! He unties her from the chair, but leaves her wrists and ankles bound. Then Julia is slung over his shoulders and carried off fireman style to god who knows what! This bondage video is half tying and gagging and the other half groping. The beautiful brunette Julia Faire is just superb to watch throughout.
| | |
| --- | --- |
| September 15, 2021 | Real Estate Agent Natasha Flade Tied Up at Gunpoint in Her Pantyhose, Cleave-Gagged & Stripped! FULL HD – 12:16 Minutes |

NOW RE-EDITED IN FULL HD! Natasha Flade is showing new client Isaac W. a house on the market, giving him the details of this lovely home all decked out in her skirt, pantyhose and blue high heels. Then suddenly the dude pulls out a gun and tells her she'd better cooperate! At gunpoint she crosses her hands behind her so he can get the pretty agent tied up and out of the way. Isaac is a fugitive and needs to lay low, so he called a real estate agent to open up a house for him! Genius!

Once her hands are tied up, he gets her cleave gagged with a knotted scarf. Best to keep the little lady quiet, too! He bends her over the coffee table and ropes her pantyhosed thighs together, then binds her ankles (closeups of her high heels!). Another rope goes over her back to pin her bent over. She's stuck to that table, and looks really good that way, too!

But Isaac has some time on his hands, and this damsel is bound and gagged and quite pretty. Her skirt is hiked up and her pantyhose and panties and pulled down and now he's got her bare ass out! He fondles and spanks that perfect butt of hers just for fun! What else does one do with a tied up real estate agent?
| | |
| --- | --- |
| September 7, 2021 | Danielle Trixie Handgagged, Tape Gagged, Bent Over Table Naked in Home Invasion! FULL HD – 10:30 Minutes |

NOW RE-EDITED IN FULL HD! Danielle Trixie is cleaning the dining table when Isaac sneaks up from behind and she's handgagged. It's a home invasion! She's wrestled and bent over the table, her hands bound behind her. Her mouth is stuffed with cloth, then taped, so she's packing-gagged AND tape gagged! Danielle is pulled back up standing and her skirt and panties are forced off of her perfect butt. Her top is pulled down and her natural tits are well-fondled.

She's bent back over that table and Isaac binds her ankles to opposite legs. Her top is attached to the opposite end of the table, forcing her to stay in the bent-over position. From the rear view, her ass and pussy are clearly visible as she struggles in her bondage. She's taunted, groped some more, left to struggle alone.

But is Isaac done with her? Nope. He returns, says he's found her Buddha statue that's worth some money but before he leaves...he begins to unzip his pants...
| | |
| --- | --- |
| August 31, 2021 | Natasha Flade Forced to Strip Naked, Tied Up Spread Eagle, Tape Gagged & Groped! FULL HD – 16:40 Minutes |

NOW RE-EDITED IN FULL HD! Natasha Flade is home, reading in bed when an intruder slips in, a masked man with a gun! He tells her she's pretty and to take off her top. Natasha is reluctant, but that top comes off and she covers her tits with her arms. The man makes her stand and drop her skirt and panties. She's now naked and vulnerable. She's handgagged and groped before forced onto the bed on her back as the intruder extracts rope from his pockets.

Her wrists are bound to opposite posts. The soles of her bare feet are on display, as well as her pussy, as her ankles are bound to opposite posts of the footboard. With the poor lass all naked and tied up spread eagle, the intruder moves back to the head of the bed to finish making Natasha utterly helpless.

A scarf is balled up and inserted between her lips, and several layers of white tape are carefully applied to hold the packing there. Natasha has been stuffer gagged and tape gagged. She's silent and helpless on the bed. The intruder runs his hand over her tits, her pussy, her thighs. What a glorious love doll she makes! Soon she's left alone to struggle all she can, tied up as tightly she is, all spread on the bed.
| | |
| --- | --- |
| August 23, 2021 | Busty Burglar Julia Faire Caught! Cleave Gagged, Ball-Tied to Table In Boots & Groped as Punishment! FULL HD – 13:47 Minutes |

NOW RE-EDITED IN FULL HD! The beautiful Hawaiian brunette Julie Faire is a cat burglar who thinks Isaac W.'s house is empty. She broke in and now she's filling her bag full of his sculptures and candle holders. Isaac breezes in and catches her! "Who the hell are you and what the hell are you doing?" he demands. Julia is scared. She tells him that she's just really broke and down on her luck. She'll put everything back and just leave. As she tries to back away, Isaac tells her to stop right there! "What should I do with you?" he asks. "Let me go.." Julia responds in a tiny, scared voice. But Isaac won't let her leave. He's calling the cops! Now Julia is really desperate! She begs to please just let her leave. But Isaac has a better idea – he decides he's either calling the cops, or, wait, he has a better idea. Police punishment probably won't work, but maybe some some bondage punishment is in order for this pretty burglar.

He grabs Julia by the arm and drags her down to the floor. Then he takes some ropes and binds her hands together behind one of the dining room table legs. Now she's definitely not leaving! He ties her knees together next, noticing that her jeans look rather expensive for girl who's supposedly broke. He grabs her by those sexy boots and ropes her ankles together just above them. Then he tells Julia she needs "one more thing." The helpless cat-burglar Julia is cleave gagged on-screen with a thick white scarf. He tells Julia if she's a good girl for a while, he won't call the police after all. Julia is left alone, bound and gagged on the floor. She struggles while Isaac goes in search of more rope.

She feared what would happen next, and it certainly does: Isaac returns and pulls her t-shirt up, then her huge tits are fondled. As he plays with her boobs, Isaac tells Julia he thinks he might have her stay for a while. In fact, he's beginning to think this was all fortuitous having a sexy cat burglar break into the house! He adds some chest ropes to his captive, then wraps her up so now she's ball-tied to that table leg. Her tits are groped even more! Isaac promises more adventures for her, including finding the other people she's robbed and inviting them over to have some fun with her, too! Then he exits the room, leaving Julia cleave gagged, ball-tied topless in her jeans and boots, and struggling in vain to get free from her tight bondage!
August 17, 2021

Natasha Flade Hogtied In Her Robe, Barefoot, Topless, Groped!
FULL HD – 5:40 Minutes

NOW RE-EDITED IN FULL HD! Natasha Flade has been kidnapped! She's barefoot hogtied in her red robe and cleave-gagged with a knotted scarf. She's struggling and writhing around on the floor, ankles tied crossed for lots of great closeups of her bare feet and soles.

Then her captor, Isaac W., strolls back into the room. He opens up her robe to have a gander at those tits of hers. Being more of a hands-on type of fella, he gropes those titties for quite a bit. Eventually, the captor gives his tied-up damsel a stern warning, then he leaves her to attend to some kidnapping business.

But Natasha's not listening — she's trying to get loose. And she's not quiet about it, either. Sure, that knotted cleave gag is a decent muffler, but Natasha is putting a lot of effort into trying to call out for help as she rolls about, her breasts jiggling as she struggles, desperately trying to free herself before her abductor comes back for even more.
| | |
| --- | --- |
| August 14, 2021 | Barefoot Hogtied & Cleave-gagged Roomies! Amber Michaels, Emily Marilyn, Loren Chance! FULL HD – 25:35 Minutes! |

FULL HD! EPIC 25 MINUTE BONDAGE EXTRAVAGANZA! Amber Michaels and Emily Marilyn are on the bed of their roomie, Loren Chance, discussing how terrible she is, with rent, with being a slob, etc. Loren comes in, wondering what's going on and the two beauties jump her, forcing her face-down on the bed and tying her hands behind her. Loren thinks it's just a little prank, but the two pull her top down and fondle her tits, then Loren gets really pissed. Loren is hogtied and cleave-gagged, and then fondled some more! Loren's in dark pantyhose, and the two take a liking to her feet and play with her tootsies some! Loren's also spanked!

Amber flirts with Marilyn and gets her top undone so she's all sexy and topless as Loren writhes in her hogtied bondage position. Amber surprises her by getting her wrists crossed behind her back and roping them there. Has she been betrayed? Yes! Marilyn is pushed to her belly and hogtied, barefoot with closeups of her magnificent soles. Amber gloats over her bondage damsels before Marilyn gets cleave-gagged, too. Now there's two tied-up and gagged damsels struggling on the bed! She gropes them some more, even kisses some of those nipples!

In comes Sergio, who heard the whole thing from downstairs, and thinks these bitches are really depraved and he doesn't want to miss out on the bondage shenanigans! Amber is forced to kneel on the bed as her hands are roped behind her. She gets the same fate as the others: forced on her belly, her bare feet bound, connected to her wrists so she's hogtied, then a nice, thick cleave-gag. Three damsels are on the bed hogtied in tight bondage!

Sergio didn't just come upstairs for the roping, he also came for the titties! Amber Michaels is soon topless and she's groped and fondled, and Sergio partake of the others' boobies, too! After he had his fill, he leaves these "depraved bondage afficionados" to their struggles. And struggle they do! The roll about on the bed as we get closeups of their faces, feet and tits!

But wait! There's more! The first one tied up, Loren, makes some progress on her ropes. She manages to get her feet undone! She still can't undo her wrists, but she stands up and dances on the bed, still tied and gagged, and even humps Amber some before she leaves her two roomies to struggle alone!
| | |
| --- | --- |
| August 3, 2021 | Barefoot Danielle Trixie & Natasha Flade Handgagged by Intruder, Cleave-Gagged, Tied to Rail In Shorts & Groped! FULL HD – 9:45 Minutes |

FULL HD! Danielle Trixie and Natasha Flade are barefoot and wearing shorts and tight tank tops with no bras. Danielle is grabbed and handgagged by a home intruder, then cleave-gagged and tied sitting on the floor to the balcony railing in her little shorts and t-shirt. Natasha comes home and is horrified to find her friend all bound and gagged! She tries to help but is attacked from behind by the same intruder! Natasha is also handgagged, wrestled to the floor in a mighty struggle, but she suffers the same fate as her friend!

We cut to these two damsels tied up in tight barefoot bondage: Both cleave-gagged seated on the floor with their pretty soles on display! They struggle for a bit before their captor returns. The intruder pulls their t-shirts up and helps himself to the two girls' lovely titties! After much groping and fondling of their breasts, the two damsels are left alone to struggle in their bondage, with lots of great shots of their bare feet and soles as well as their jiggling tits!
| | |
| --- | --- |
| July 27, 2021 | Barefoot Chloe Night Hogtied & Cleave-Gagged in Home Invasion by Masked Man! FULL HD – 11:20 Minutes |

NOW RE-EDITED IN FULL HD! Chloe Night relaxes in her bed on a gentle summer evening, reading in her shortie robe. But it's home invasion time! A masked man comes in and she's handgagged and told to cooperate or very bad things will happen. The robber forces her to her belly and binds her hands crossed behind her back. Her bare feet are tied up next, and we get a closeup of her adorable soles. Chloe is securely hogtied! She pleads with this rude home invader, and she gets a thick scarf wrapped between her lips: cleave-gagged! Her captor makes an exit to rob her place, leaving her to struggle in her bondage like a good damsel as he burgles.

Chloe's resistance to her bondage gets her exactly nowhere, and the robber returns to have a wee bit of fun with his hogtied captive. Her rope is opened and she's topless, her amazing tits out to be groped and fondled. The masked man also discovers Chloe's perfect ass. Her butt cheeks are kneaded like dough, getting the robber a little too horny. After having fun with the helpless bound and gagged damsel, she's alone in her bondage again, rolling about with her boobs out, trying to free herself from the tight ropes.
| | |
| --- | --- |
| July 20, 2021 | Housewife Natasha Flade Tied Up & Cleave-Gagged in Sundress, Showing off Her Soles and Tits! FULL HD – 9:30 Minutes |

NOW RE-EDITED IN FULL HD! This is nearly ten minutes of barefoot bondage struggly goodness with tied-up housewife Natasha Flade and her fabulous soles! She's roped seated to a bedpost in her sundress, a large knotted cleave-gag parting her lips. She moans and fights the bonds to no avail, cleave-gagged and bound at the ankles, thighs, chest and wrists behind the post.

There's closeups aplenty of her gagged face and her wriggling soles! And her tits once the top of her dress was pulled down. Topless, her bare tits jiggle in her struggles. For those who like their damsels tied up and gagged with no where to go and no one rushing to the rescue!
| | |
| --- | --- |
| July 13, 2021 | Cheating Wife Amber Michaels Naked Hogtied at Knifepoint for Getting Caught! FULL HD - 11:45 MINUTES |

NOW RE-EDITED IN FULL HD! Cheating wife Amber Michaels is naked and making out with her lover on the sofa when her husband, Sergio, returns home and finds them! He flips out and grabs a knife to scare off his wife's lover. Now Sergio only has revenge on his mind! And he wants to punish his beautiful, cheating wife. He grabs Amber roughly, pulls her to her feet, then she's forced to submit as her wrists are tied behind her back.

Amber tries to protest, but Sergio overtakes her. Once her hands are bound, he chucks Amber to the floor, where she's tightly barefoot hogtied. Elbow ties are added for good measure and more punishment. But Amber won't stop whining and crying, so Sergio shuts her yap by gagging her — twice! He wraps TWO scarves between her lips. Now double cleave-gagged, Amber's whining is reduced to muffled mews and mmphs.

Sergio then takes her naked body for himself, fondling her tits and groping her sweet, bare ass. He's ranting on, informing Amber those are his tits. Then he storms off, leaving his cheating wife hogtied nude on the floor. That's what she deserves, he thinks! But once he's gone, Amber starts to struggle and roll about, trying to find a means of escaping. As she she does so, the viewer is treated to great closeups of her bare feet and soles, her huge tits and lovely naked ass. What a sight!

Then Amber sees the knife that her husband dropped on the floor. With a mighty effort, she crawls and scoots herself across the floor and manages to fially gets close to the knife. But how will she manage to use it? It will be a huge feat if this cheating housewife is able to cut the ropes with that knife and escape her bondage! But we'll have fun watching her try…
| | |
| --- | --- |
| July 6, 2021 | Secretary Natasha Flade Tied-Up at Gunpoint in her Pantyhose and Heels in Outdoor Bondage! FULL HD – 10:30 minutes |

FULL HD! Secretary Natasha Flade comes home from work to get a gun in her face before she even opens the door! She's ordered at gunpoint to sit down on a lounge chair on the porch. She obeys and her captor, Isaac W., ropes her hands together in front. She's cleave-gagged with a long, thick scarf, two wraps! Chest ropes are added. Her legs are stretched out, her ankles are bound over her pantyhose and above her black high heels. More rope is used to tether her feet and wrists to the bottom and sides of the lounger. She's not going anywhere!

With his pretty secretary all tied-up and gagged, the captor decides to take a few liberties. When Natasha protests, she's handgagged and told to cooperate. Then he strips down the top of her red dress and fondles and gropes her tits. He even sucks her nipples! He rubs his hands up her pantyhose-covered thighs. She gets handgagged again when she tries making a fuss.

When Isaac tires of playing with his damsel, he leaves her to struggle all alone in her outdoor bondage. But Natasha just makes thing worse for herself, struggling so hard that the lounge folds up on her, and she's folded up with it!
NEXT PAGE