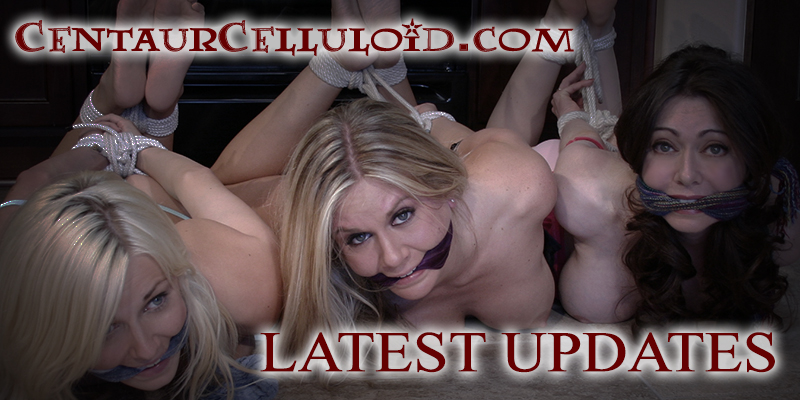 | | |
| --- | --- |
| June3, 2023 | Natasha Flade Struggles Hard Chairtied Naked, Tapegagged & Blindfolded! (FULL HD - 14:45 Min) |

FULL HD! Natasha Flade is naked and securely chairtied with ropes about her chest and la. Her bare feet are secured to a chair leg, her hands tied crossed through the chair back and tethered down, making it nearly impossible to move. Her captor has her tapegagged and blindfolded, too. Poor Natasha is really in a tight spot here. She's frantic to finds a means of escape, struggling so hard she nearly breaks the chair!

But the ropes are just too tight and she isn't getting loose. Our damsel in distress is not yet defeated! She begins jumping that chair up and down, hopping to a door. This energetic struggling while chair bound is quite amazing! Natasha puts every ounce of effort into finding some means to escape her bondage. Although she's blindfolded, she believes she can make it to a phone, or a knife...something! So off she goes, scooting and hopping that chair all over the place, her tits bouncing and using her bound bare feet to feel her way around.

Eventually, Natasha makes it to a table in the hallway where she left her phone, but finds that she can't reach it because the way she's chairtied is so confining. It's a setback, but Natasha isn't giving up just yet. She continues to scoot and jump that chair until she reaches the living room, feeling her way around with her feet and using her bound hands to She feels her way around with her feet or hops the chair around so she can feel things with her hands that are tied behind her back. Finally frantic, Natasha starts struggling once again with all her might. Will she find a means of escape here? Or is she doomed to sit chair-tied, tapegagged and blindfolded until a visitor comes by?
| | |
| --- | --- |
| June 9, 2023 | Natasha Flade Wakes Up Bound & Gagged Naked, Crawling to Make Bondage Escape! (FULL HD - 10:45 Min) |

FULL HD! Natasha is truly stellar in this bondage escape video! We being with Natasha Flade totally naked and unconscious on her bed! Someone chloroformed her, tied her up and cleave-gagged her while she was knocked out cold, then just left her there like that. The camera pans her nude body as she lays there, bound and gagged naked and unconscious. We get close-ups of her bare ass and beautiful barefoot soles! Natasha slowly awakens and starts to panic when she realizes the situation she's in! She's struggling really hard, but getting nowhere.

Natasha finally realizes that no one is coming to save her, so she slips off the bed and onto the floor, making her way out into the hallway and then into the living room. Natasha is truly amazing at scootching and crawling around on the floor while all tied up! Despite being restrained, she makes good (rug-burning) progress on her travels. She's looking for her purse, where her phone is. So, she makes her way, inching along on her sides and back and belly. We are treated to Natasha's bare feet, bare ass, gagged face, and all her parts as she desperately makes her way to the living room, where her purse sits atop a table. After a very energetic effort, she makes it to the table. To get to her purse, she has to make her way on top of the chair next to it. From there she manages to knock the purse onto the floor. Natasha gets back down on the floor and, with her hands tied behind her back, she digs inside her purse, then scatters the contents about -- including her phone!

She maneuvers the phone into her hands, but she can't get it to turn on! Is the battery dead? How long was she unconscious? Fear sets in now! Natasha screams into her gag in frustration. Naked, tied up and gagged on the floor, she struggles and crawls about wondering what she can do next to get herself loose and make her bondage escape...
| | |
| --- | --- |
| May 30, 2023 | Star Nine Abducted in Nightie! Handgagged, Barefoot Hogtied, Tapegagged by Home Invader! (FULL HD - 8:40 Min) |

FULL HD! Blonde Star Nine was reading in bed, luxuriating in her sexy nightie, her beautiful bare feet on display. Suddenly a home invader sneaks up behind and handgags her tightly, ordering her to cooperate in a long handgagging scene. The invader forces Star onto her belly and her wrists are tied up behind her back. Her ankles are tied together, then she's hogtied barefoot. (Great closeups of her bare feet and soles here!)

Star's mouth is forced open wide and stuffed with a large white cloth, then her lips are covered with several strips of duct tape over that. Satisfied that this pretty damsel won't be going anywhere any time soon, the intruder leaves to abscond with her valuables. All alone, Star writhes in her bondage, hogtied barefoot and tapegagged on her own bed. As she struggles, we're treated to lots of different angles and closeups. And damn, Star Nine sure looks good like that, her tits practically falling out of her skimpy nightie, her bare ass poking out from her panties!

Not being a total asshole, the home intruder returns and leaves a pair of scissors by his captive to assist in her attempt to escape. He doesn't want her to be left there bound and gagged for days, after all. Being determined to get loose, Star manages to roll herself to the scissors and get a grip on them, then makes an attempt to cut herself free – with her tied up hands!
| | |
| --- | --- |
| May 23, 2023 | Secretary Natasha Flade Hogtied in Pantyhose, Stripped Topless & Groped In Office Bondage! (FULL HD - 7:30 Min) |

FULL HD! Secretary Natasha Flade has been abducted in her office! The captor left her hogtied on the floor in her sexy blouse, slim skirt and pantyhose. She's been cleave-gagged with a polka dotted scarf to keep her from from making too much noise. He left her there alone and Natasha is determined to get loose! She's not wearing any shoes, so her pantyhose-clad feet are wriggling delightfully about as she's struggling on her office floor.

Our helpless office babe fights her bonds and mews through her gag. It's an energetic effort to free herself before her captor returns. Unfortunately, she's not successful, and the captor returns with a mind to see those tits of hers! Her blouse is ripped open, rendering her topless, then her breasts are groped by his roaming hands. Secretary Natasha squirms beneath his touch as he's fondling her breasts and running his hands along her bound body.

Eventually, he gives some threatening words and departs, leaving poor Natasha alone once more to struggle in her office bondage. Hogtied topless in pantyhose, the tied up secretary tries her best to scootch and struggle away. She rolls around the floor, and we're treated to great close-ups of her pantyhose feet, her lovely gagged face and those tits, now wild and free. This is Natasha Flade the way you love her: hogtied, topless, her damsel eyes wide and beautiful. Now who doesn't want to see that?
| | |
| --- | --- |
| May 16, 2023 | Julia Faire Pays in Bondage for Stealing Natasha's Modeling Job, Crawls to Phone for Help! (FULL HD - 12:15 Min) |

FULL HD! Julia Faire is doing her makeup in the mirror, getting ready for her modeling job, when Natasha Flade comes in, tells her how pretty she is, then strikes! She pins Julia's hands behind her back and ties then there, then wrestles her down to the floor and binds her elbows tightly. Natasha claims that the modeling job that Julia was preparing for should have been hers, and now she's making sure it will be!

Natasha stuffs Julia's mouth with a really huge cloth and wraps a thin scarf between her lips to hold it in place. Then she ties up Julia's legs and thighs with more rope. With Julia out of the way now, being bound and gagged on the floor, Natasha handgags her and calls the photographer. She tells him Julia won't be able to make it…..but she can!

Just for fun (and a little bit of revenge…) Natasha strips the helpless Julia topless and plays with her boobs! They're some really nice big tits, too! But now it's time to leave for that modeling job! Poor Julia is left all alone, so she starts struggling to get loose before her crazy captor returns. While she's wiggling about in her bondage, she notices her cell phone across the room. She must try to reach it! So Julia wriggles, crawls and hops across the bed to get to her phone and call for help. She manages to scream into the phone even though she's gagged! But will anyone be able to understand her…?

The beautiful brunette damsel, Julia Faire, is wearing a dress and open-toe heels for this video clip.

Outtakes and bloopers at the end!
| | |
| --- | --- |
| May 8, 2023 | Lazy Barefoot Wife Dannielle Trixie Punished! Bent Over, Roped Ass-Up to Table, Tape Gagged! (FULL HD - 12:45 Min) |

FULL HD! Lazy barefoot wife Danielle Trixie sits on the couch all day, channel-surfing. Her husband Isaac comes in, angry she hasn't done any housecleaning again! Isaac, angry with her for being so lazy, decides to punish her with a little bondage to force her to remain inert and immobile against her will.

He pulls off the sofa and bends her over the coffee table. She whines as he ties her hands behind her back, pulls her shorts down and ropes her to that table, her naked ass-up! Her thighs and ankles are bound next with closeups of that amazing ass and her bare feet and soles. But his wife Danielle is still whining, so she's tape gagged with lots of duct tape. There! Much better!

Danielle's naked ass and bare feet get lots of loving closeups. She's not looking very happy, though, when he uses her as furniture, resting his feet on her back while she's tied-up bent over, ass hanging ou and tape gagged! He watches TV all comfortable while his lazy barefoot wife squirms and mmmphs beneath his feet! Hey, at least he left her roped and tape gagged next to the TV she loves so much!
| | |
| --- | --- |
| May 2, 2023 | Housewife Candle Boxxx Kidnapped! Handgagged at Gunpoint, Roped to Chair, Photographed for Ransom! (FULL HD - 14:30 Min) |

FULL HD! Blonde housewife Candle Boxxx was home alone, barefoot in her long t-shirt, when a man with a gun sneaks up and she's handgagged! Candle's informed that he needs her husband, a bank manager, to open the safe for his partner. In the meantime, Candle will remain his captive.

He proceeds to rope Candle to the dining room chair: hands tied behind her, bare feet bound and tethered to the chair legs. Ropes are wrapped around her chest, securing her to the chair back. For a more dramatic effect, Candle's cleave-gagged with a really thick green cloth. Now our blonde housewife is tightly chairtied, her nips poking through her long Tee!

The captor produces a camera and snaps some ransom photos to send off to Candle's husband. Left alone, Candle struggles in her bondage for a bit. Then the intruder returns, phone in hand and angry. It seems he's getting nowhere in securing the ransom money. Apparently, Candle's husband doesn't understand the gravity of the situation.

Obviously, more incentive is needed. So he pulls up her t-shirt — and Candle isn't wearing anything underneath! Now her glorious tits are out and about and her pussy exposed! He reties the chest ropes tighter, then more pictures are taken of Candle chairtied, but now naked! The intruder leaves to see if these more explicit photos will produce the ransom money. Alone once more, poor Candle Boxxx struggles harder in that chair, but she can't get loose from her tight bondage!
| | |
| --- | --- |
| April 29, 2023 | Collect All the HOT BONDAGE EROTICA by Isaac W.! |

LINK FOR ALL THE HOT BONDAGE EROTICA BY ISAAC W.!
| | |
| --- | --- |
| April 24, 2023 | Sexy Star Nine Handgagged, Hogtied in Dress & Pantyhose, Groped for Hopping Away! (FULL HD - 12:40 Min) |

FULL HD! Star Nine was sitting on the sofa having a read in her sexy dress, pantyhose and high heels when an intruder sneaks into her house and handgags her! Star puts up a huge fight (a really great handgagging scene!), but eventually she's overcome and forced down to the floor, on her knees. Then the home intruder grabs his backpack of ropes and the pretty blonde damsel is tied at the wrists, thighs and ankles. Lots of rope! She gets a strict elbow tie, too.

Star starts screaming, so he forces Star to open up her mouth for a really thick cleave gag wrapped twice between her lips. After a warning, the intruder leaves and Star begins to struggle. She looks around to see if he's gone, then she manages to stand up and starts hopping to try to escape – even though she's still tied up!

Unfortunately for the helpless Star, the intruder sees her and catches her! She's lifted up and carried back to the sofa. He throws her down and attaches her bound ankles to her wrists, so now she's tightly hogtied. Then the masked man pulls down the top of her dress to fondle and grope her tits as punishment for trying to escape! He tells Star that he'll be taking her home for all his friends to have their way with! Star is left alone as he fetches his car, trying once again to escape her bonds before the home intruder returns to carry her away for his friends!
| | |
| --- | --- |
| April 18, 2023 | Barefoot Natasha Flade Robbed at Gunpoint, Tied-Up in Shorts, Cleave-Gagged, Groped! (FULL HD - 11:40 Min) |

FULL HD! Natasha Flade was reading a magazine in her sunroom, chilling in her denim shorts, tank top and barefoot, having no clue she was about to be the pretty damsel victim in a home invasion! In comes a robber with a gun! With the gun to her back, he orders Natasha to put her hands behind her back. He wrists are bound, then she's cleave-gagged with a really thick scarf. Another rope is wrapped about her chest to tether her to the loveseat. Next, her thighs and ankles are bound–with clear views of her lovely soles as the binding is done!

Now that Natasha Flade is bound and gagged and at the intruder's mercy, he decides to have some fun with her titties before ransacking the place! He takes advantage of his helpless victim, pulling her tits out for some groping and nipple-sucking action! Natasha doesn't have much room to wriggle about and squirm from her captor's grasp, but she certainly tries!

After having his fill of the topless tied up and cleave-gagged damsel, the armed intruder leaves to go about the robbery business. Poor Natasha is left to struggle in her bondage. She fights her bonds energetically, with great shots of her bare feet, her lovely gagged face with those wide damsel eyes, and of course those bobbies!
| | |
| --- | --- |
| April 9, 2023 | Natalie Minx, Home Invasion Victim, Hogtied in Pantyhose & Heels & Molested by Masked Man! (FULL HD - 11:40 Min) |

FULL HD! A redhead Natalie Minx returns from a party to find her home being burglarized by a masked man! At gunpoint, he forces her to lie belly-down on the coffee table, where her wrists are bound behind her. The masked intruder pulls out a long, thick scarf, makes a huge knot in it, and inserts it between Natalie's lips and teeth and wraps it a few more times so she's seriously cleave-gagged! Her ankles are tied, and then Natalie is folded into a tight hogtie. Now helpless and hogtied, the masked man has some fun tying her high heels together, too!

Poor Natalie is left alone atop that coffee table, hogtied in her pantyhose and high heels, squirming about, fighting at her bonds, and mmphing through her extraordinarily thick gag! We're treated to lots of great angles of Natalie's gagged face, her pantyhose-clad legs and her sexy heels.

But then the burglar returns, angry that she has nothing of value to steal in this very nice house! He decides he's not leaving empty handed. He's going to have a gander at those amazingly big tits of hers! She's flipped to her side, her top and bra are pulled down, her huge tits fondled and groped. Wanting even more, he pulls her pantyhose down and fingers her pussy!

After having his fill of molesting poor Natalie, the masked man departs and leaves her there like that. At least he had a little fun with his home invasion!
| | |
| --- | --- |
| April 4, 2023 | NEW FOOTAGE! NEW VIDEO! Danielle Trixie Handgagged, Hogtied in Heels in Home Invasion for Ransom! (FULL HD - 10:13 Min) |

NEW FOOTAGE! NEW VIDEO IN FULL HD! Blonde Danielle Trixie was relaxing at home in her tight skirt and high heels when a masked man sneaked in through the sunroom and handgagged her! It's a home invasion! She's told to keep quiet and put her hands behind her. She complies, and soon poor Danielle, daughter of a very weather man, has her hands bound behind her. She's strictly elbow-bound, too!

Next comes the gagging! A white cloth is balled up and stuffed in her mouth. A scarf is pulled between her teeth to keep it there so she's cleave-gagged. Now significantly quieter, her ankles are tied, with nice closeups of her high heels.

The masked man folds up the damsel so she's hogtied on the sofa. Then he pulls out his phone to make the ransom video for her rich daddy. To drive the point home to hurry up and send him the dough, poor Danielle is rendered topless, her huge natural tits out for her daddy to see on the next video!

Satisfied that Danielle is hogtied and gagged well, she's left alone to struggle in her bondage as the intruder leaves to await payment.
| | |
| --- | --- |
| March 27, 2023 | Cutie Redhead Acidalia Sabine Bound Strappado & Tapegagged in Heels for Ransom from Dad! (FULL HD - 11:30 Min) |

FULL HD! Young redhead cutie Acidalia Sabine is dragged into the safehouse with her hands already bound behind her and forced up against the staircase in the foyer. The captor stuffs her mouth with cloth, then she's strictly tapegagged on top of that. Her elbows are bound and hoisted high above for a very uncomfortable strappado position.

Her captor ties her ankles (great closeups of her high heels!) then more ropes are added just below her knees, tying her at the calves. She isn't going anywhere! He leaves Acidalia for a bit, then returns and and snaps some photos for the ransom video to her father, who's rich AF and will pay big money to get his lovely little bound and gagged daughter back.

He pulls Acidalia's top down to grope and squeeze her perfect tits. She squirms and struggles as he molests her breasts, but she's helpless to stop him. After getting a bunch of feelies in, the kidnapper leaves to wait for the ransom cash to arrive. Our cute damsel with gorgeous red hair is left alone to struggle, tied up standing in strict strappado fashion. There's lots of great shots, including aerial views and point-of-view angles looking up at poor Acidalia from beneath her as she looks pleadingly into the camera.

Young cutie Acialia Sabine is in a miniskirt, little top and strappy high heels for this hot ransom bondage video.
| | |
| --- | --- |
| March 22, 2023 | Chloe Night Carried Tied-Up Into the Wilderness, Bound Naked to Pallet, Gagged & Groped! (FULL HD - 7:05 Min) |

FULL HD! Blonde Chloe Night has been kidnapped! She's being carried into the wilderness with her hands bound in front of her and her feet tied together. She's set down and her captor gags her with a knotted cleave. He pulls her top up and plays with her tits. Then she's laid down on a wooden pallet and her hands are pulled above her head and attached to the pallet.

The kidnapper rips her jeans down and tethers her feet to the opposite end of the pallet so she's tied stretched out. Now poor Chloe is bound, gagged and nude. She's completely helpless as she's being groped and molested by this man. He runs his hands along her breasts and brushes her pussy.

Her captor departs and leaves her there in the hot sun. Tied up stretched cleave-gagged with a knotted bandanna, our blonde damsel struggles alone in her outdoor bondage. She tries to call for help, but no one can hear her in that lonely woods in the middle of nowhere.

Chloe Night is wearing a t-shirt, jeans and little sneakers in this bondage video.
March 14, 2023

Natasha Flade Abducted in Bed! Hogtied, Barefoot, Stripped Naked!
(FULL HD - 7:11 Min)


FULL HD! Someone abducted Natasha Flade right in her own bed! She's hogtied barefoot and cleave-gagged in little shorts and a t-shirt. All alone, Natasha struggles in barefoot bondage, her bare feet and soles wiggling all about. There's lots of closeups as the camera pans up and down her bound body. She's trying her best to get loose before the home intruder returns, but she's not getting anywhere.

Then her abductor returns - wearing nothing but his boxers! This shirtless man climbs into the bed and hover over his damsel. Natasha grows frantic and struggles even harder, but he tied those ropes too tight and she's helpless to do anything to stop him. He turns Natasha over and pulls her t-shirt up to get at those tits. He fondles her boobies and sucks her nipples. Then he pulls her shorts and panties down, and we're treated to Natasha's glorious naked body! He runs his hands along her thighs and that perfect and amazing bare ass. He squeezes, kisses and spanks her naked buns. Our helpless damsel mews through her cleave gag and squirms beneath his touch.

But in the end, she's left there all alone, hogtied on her own bed and struggling in her inescapable barefoot bondage. There's closeups aplenty of Natasha's beautiful damsel eyes, her gagged face, her naked tits and ass, and those lovely bare feet and soles, wriggling deliciously everywhere!
| | |
| --- | --- |
| March 7, 2023 | Movement Leader Mallory Page Chairtied, Cleave-Gagged, Soles Out, Keeping Her from Speech! (FULL HD - 13:45 Min) |

FULL HD! Mallory Page was in her bedroom prepping for a big speech to get The Movement all fired up for a protest. She's seated on a chair, barefoot in her jeans and a sweater. Suddenly, in comes an intruder with a gun! At gunpoint, her speech is thrown aside and her hands are pulled behind the chair and bound there!

Then Mallory's bound at the ankles with her bare soles pointed right at the camera! Her knees and waist are tied to the chair, so the poor lass is tightly chairtied! Her bare feet are pulled up on the chair seat so her adorable soles are available for lots of closeups! Then a she's cleave-gagged with a knotted bandanna forced between her lips.

She struggles as the intruder rummages about the house, looking for other things to use again her and The Movement. He returns, curious about her tits! Her sweater is unbuttoned, her bra cups pushed aside and her beautiful breasts are revealed, humiliating the poor girl even more. Then he leaves and now our helpless damsel Mallory struggles alone once more, chairtied (topless!), her bare feet and soles still deliciously on display!
| | |
| --- | --- |
| March 1, 2023 | Natasha Flade Tied Barefoot to Chair, Soles On Display, then Molested & Tickled! (FULL HD - 8:33 Min) |

FULL HD! Natasha Flade has been kidnapped! She's tied seated on an office chair, barefoot in jeans and a little top that you can see her nipples poking through! Her hands are roped together behind the chair back and her bare feet are bound atop a second chair, her soles perfectly on display! Lap ropes keep her secure. She's been cleave-gagged, too. Natasha struggles hard, trying to escape her bonds. She's not happy about the situation one bit!

But then her captor returns with designs on molesting her! He's intent on getting those lovely titties out so he can have some fun with them! He pulls her top up so he can grope and suck on her boobs! Then he plays with and tickles her beautiful bound bare feet. (Lots of great closeups here of her wriggling soles!) Natasha is squirming around in that chair, but she isn't going anywhere!

After a while of this molesting, the kidnapper warns Natasha that he's leaving her like this, chairtied topless and barefoot in her own kitchen, and that she'd better not try to get loose for at least an hour after he's gone. But after the door closes, Natasha takes her chances and struggles like hell anyway!

Bloopers and outtakes included!
| | |
| --- | --- |
| February 21, 2023 | Antique Dealer Julia Faire Handgagged & Chairtied & Tits Groped in POV Bondage Home Invasion! (FULL HD - 17:45 Min) |

POV BONDAGE IN FULL HD! YOU as the intruder in this POV Bondage home invasion story! Supplemented with a second camera getting all the great angles of Julia Faire chairtied! So, we begin with gorgeous brunette Julia Faire in the kitchen just returning from her antique shop. You sneak up behind her with your gun drawn and you quickly have her handgagged! You maneuver her to a chair, still handgagged, and sit her pretty butt down. You order her to criss her hands behind the chair back and get to work on getting this pretty antique dealer chairtied with ropes about her chest and lap, too!

You draw a white cloth from your pocket and cram it into her mouth for a packing gag, tie it in place, so she's both packing gagged and cleave-gagged! Nice and quiet for this little bit of robbery you have planned! But, damn, she's to pretty to not play with! You undo that chest rope and pull up her dress and bra to reveal her gorgeous tits! You retie the chest rope so she's charitied topless now and fondle and grope those tits!

Time to get about the buglaring work! You leave her behind, but the viewers are treated to an extra few minutes of Julia struggling chairtied in her own kitchen, gagged and helpless!
| | |
| --- | --- |
| February 14, 2023 | Dressed Up Natasha Flade Struggles Chairtied & Tape Gagged in Pantyhose Bondage! (FULL HD - 15:40 Min) |

PANTYHOSE BONDAGE IN FULL HD! Who got damsel Natasha Flade chairtied? She was obviously going out to some sort of classy affair. She's in her sexy black cocktail dress, pantyhose and high heels. Her make-up is set to WOW-sexy! But here our poor bound and gagged damsel is, all roped tightly to a chair in the living room and tapegagged with several layers of duct tape. Her hands are tied in front on her lap, there's ropes wrapped above and below her breasts, and her ankles are bound together, too.

She's the perfect dressed-up damsel, struggling and mmphing in her bondage for your viewing pleasure! She's extremely distressed as she looks about frantically for help. She pleads and moans through her tape gag, desperate to know why this has happened to her. As she's crying, her damsel-wide eyes stare right at you in fear.

Natasha struggles really hard all tied up to that chair in pantyhose bondage! There's lots of closeups of her beautiful, tape gagged face and her oh-so expressive damsel eyes. Plenty of great angles and lots closeups of her high heels and pantyhose-clad legs as Natasha tries to escape her bondage. But the ropes are just too tight and no-one is coming to her rescue. It looks like poor dressed-up Natasha won't be making it to her classy affair tonight!
| | |
| --- | --- |
| February 7, 2023 | POV Tape Bondage! YOU Tape Up Quimm Anaheim & Grope Her Big Tits Endlessly! (FULL HD - 10 Min) |

FULL HD! You are the intruder in this POV bondage video! Quimm Anaheim with glasses was cleaning the windows in the sun room when you, a home intruder, sneak up behind her, armed with a big roll of duct tape. You see that Quimm is wearing nothing but her skimpy nightie and her glasses. You strike! Poor unaware Quimm is handgagged as you order her to calm down. You force her down to the floor onto her belly.

You take your roll of duct tape and put it to good use! Quimm's hands are taped crossed behind her back. her bare feet are crossed and taped up next. Then she's cleave gagged, not once, but twice! This double bandana gag is really thick, just the way you like it! Next, you wrap the sticky business around her lovely, bare thighs. Quimm is now quite immobile in this tape bondage you've got her in.

Time to get a look at those sizeable tits of hers. So you strip her topless by pulling down the top of that skimpy nightie. And yes, oh my, her tits are incredible! They're huge and 100% real, too! You now set to wrapping even more tape around her big chest, framing her boobs in silver stripes.

Her breasts are just too inviting and you can't help yourself (and you don't want to, anyway…) So you start squeezing and groping Quimm's amazing tits. On and on you go, endlessly, because you just can't stop yourself or keep your hands off of Quimm's marvelous rack. What a day this is! Never ending tape bondage for Quimm and non-stop groping and fondling of her glorious, big tits!
| | |
| --- | --- |
| January 31, 2023 | Beautiful Danielle Trixie Carried In Bound & Gagged, then Chair-Tied Topless for Ransom Video! (FULL HD - 10:11 Min) |

FULL HD! Beautiful Danielle Trixie has been kidnapped for ransom by a masked man! She's carried into the sunroom, already bound & gagged in her dress and high heels. She's sat down onto a chair, then her captor sets to roping her tightly to it. Her bound hands are tethered down to a chair leg, ropes are wrapped about her lap and chest to keep her secure, then her heels are attached to another chair leg. Danielle mews and sobs as her abductor finishes the knots. She's not going anywhere now!

Then her captor sets up a tripod to shoot a ransom video of his kidnapped damsel. He threatens the helpless lass while he makes his ransom demands, then pulls out her gorgeous boobs as more incentive. He says the money better show up fast or Danielle and her fab tits here will fare even worse! Poor Danielle sits there helplessly, all roped up (and topless!), as the camera rolls.

When the kidnapper leaves to send off the video and wait for the loot to arrive, the beautiful blonde damsel struggles in her bondage, chair-tied topless and knotted cleave-gagged, and hoping someone will rescue her! The viewer is treated lots of great angles and closeups of everything: her high heels, her lovely gagged face and of course, those amazing Danielle tits!
| | |
| --- | --- |
| January 24, 2023 | Girlfriend Natasha Flade Chairtied in Pantyhose and Heels, Groped & Forced to Sign Million Dollar Check! (FULL HD - 10 Min) |

FULL HD! This video begins with Natasha Flade being roped to a chair by her old boyfriend (Isaac W.) As he binds her wrists in front, he informs her that he knows she just inherited a ton of cash and he's here to collect! He says it's his payment for all those terrible years he spent with her! Natasha's hands are tied down between her legs and tethered to the chair back. Ropes are wrapped about her chest, then he leaves her alone for a bit and Natasha struggles, chairtied in her skimpy dress, pantyhose and high-heels. Isaac returns with a wad of cloth and a long scarf. He shoves it into Natasha's mouth for a 2-piece cleave and packing gag ensemble. Then he ties her ankles together and attaches them to a chair leg. (Lots of great closeups here of her heels!)

Isaac is clearly enjoying himself as he gets back at ex-girlfriend Natasha! He pulls down the top of her dress and goes to town on those tits! He fondles, gropes and sucks her breasts, then gives those nipples a good sucking. Natasha is squirming around, annoyed at this violation! Isaac leaves once more and she struggles harder in her bondage.

Then Isaac returns with her checkbook in hand and demands that she write him a check for a million dollars! How's she supposed to do that all tied up? "I'll help you," he says. Natasha is forced to sit there as Isaac fills out a check for himself right on her leg. Then he hands her the pen and forces her to sign it with her bound hands. "Woo hoo!" Isaac shouts, waving the check in Natasha's face. She glares at him, which only makes him laugh. Such satisfaction to get back at his old girlfriend! He gets some more feelies in, then leaves Natasha chairtied topless – and broke.

Once he's gone, Natasha spies her cell phone on the end table! She hops and scootch herself, chair and all, over to the phone, then manages to pick it up with her tied up hands and attempts to dial for help. But she can't make the call and ends up sitting there, hoping someone will show up and rescue her before Isaac cashes that check!
| | |
| --- | --- |
| January 17, 2023 | Secretary Natasha Flade Posted in Her Bedroom, Stripped Topless & Groped by Home Intruder! (FULL HD - 9:15 Min) |

FULL HD! Secretary Natasha Flade is posted in her bedroom by a home intruder! She's tied up to a bedpost, standing, in her office wear: long skirt, blouse and black pantyhose tights. Her hands are bound up high to the top of the post, the knots out of reach. Ropes are wrapped about her thighs and her ankles are tethered to the post. She's been double-gagged with a large napkin held in place with a thick scarf! Completely helpless, Natasha struggles in her bondage, with lots of great angles as the camera pans up and down her body. Her damsel eyes are oh so wide as she mews and mmphs from behind that large gag.

But then the home intruder comes back! He grabs Natasha and orders her to be quiet. Then he pulls her top up for a gander and more at those lovely tits. Her breasts are groped and fondled, her nipples sucked. Then he imparts more warnings to be a good girl before exiting to return to his no-good business.

Left alone, secretary Natasha struggles even harder, only now her tits are swinging as she does so. She looks about with pleading eyes, begging silently for someone to please come save her before the home intruder returns.
| | |
| --- | --- |
| January 10, 2023 | Julia Faire Tricked into Bondage by Her Husband (Barefoot Hogtied & Tape Gagged!) So She Misses Job Interview! (FULL HD - 12:50 Min) |

FULL HD! Gorgeous Julia Fair is excited about her job interview this morning. As she enjoys her cup of joe in the kitchen her husband, Isaac W., strolls in. Since she's rather early, he asks if he can tie her hands up, just for a few minutes? They haven't had any bondage time in a while and this new job might curtail their bondage playtime even more. Julia acquiesces to his request and place her hands behind her. Once her hands are tied, Isaac compliments his beautiful wife, thanks her, then starts tying her bare feet, too. "Just for a minute!" he promises. Julia allows this with a loving smile.

But then her husband goes too far — and too close to the time she's supposed to leave! He stuffs her pretty mouth with cloth, then tapes her mouth with several strips on top! Now Julia realizes that something is up! Isaac picks her up and lays her on the tile floor for a strict hogtying! He binds her arms, so she's strictly elbow bound. Then comes another rope and poor wife Julia is helplessly barefoot hogtied in her kitchen in her silk nightgown!

"No wife of mine needs a job," he says. She will continue to stay at home, be his wife and make him sandwiches. Julia is incensed....but she's hogtied and tapegagged -- what can she do? So Isaac strips her naked to play with her magnificent and beautiful body. He slips down the top of her nightie and her breasts are fondled. Then her strips her panties off, so she's totally naked! Poor Julia will miss the job interview she was so excited about! Just as her husband intended all along!
| | |
| --- | --- |
| January 3, 2023 | Beautiful Blonde Danielle Trixie Totally Nude, Tied Face Down, Bare Ass & Soles on Display! (FULL HD - 5:35 Min) |

FULL HD! The lovely Danielle Trixie is totally nude and has been tied face down on the sofa. She's been cleave-gagged, too. Chest ropes keep her secured to the sofa and her bare feet are tied above the sofa arm and tethered to the legs below, her perfect, plump ass and soles in plain view.

She struggles alone in her bondage, with lots of great close-up and angles, including some really cool aerial shots. You'll see everything! Her hot naked ass wriggling, her pussy poking out as she's struggling, her beautiful tits jiggling, her perfect soles! And then there's her beautiful gagged face!

Beautiful Danielle looks about, her damsel eyes wide as she tugs at her ropes. What a sight! This is a great struggly bondage video that will keep you cumming for days and then some!
NEXT PAGE