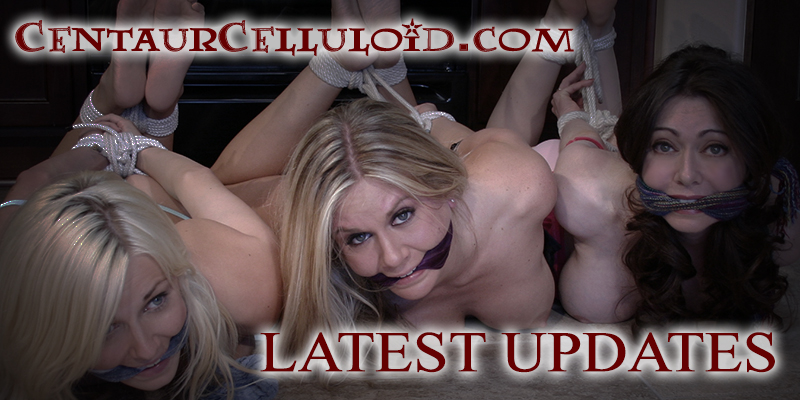 | | |
| --- | --- |
| June 28, 2022 | Sara Liz Carried, Chairtied in High Heels in Hangar, Handgagged & Groped Before Plane Flight to Slavers! (FULL HD - 10:40 min) |

NOW IN FULL HD! Blonde Sara Liz was kidnapped and hogtied in heels for a backseat car ride. Now we see where she's being taken! To an airplane hangar! She's to be flown to South America to be sold off as a sex slave to a wealthy master.

Sara is carried (the first bondage carry in this video!) from the car, tied up topless in high heels and double cleave-gagged with two layers) and sat down on a chair. She's tightly chairtied so the kidnapper pilot can run the checklist before tossing the bound and gagged damsel into the back for her plane flight transport!

But Sara's making a lot of noise. She's looking quite fetching as she's struggling in her rope bondage, so the pilot kidnapper gropes her big tits (all natural!). Then he handgags her just for fun! It's just so much bondage erotica to keep her handgagged while he's fondling those gorgeous tits! Then he takes some bondage photos with his cell phone as a preview for her sex slave buyer!

The pilot gets back to the checklist as Sara gets back to struggling in her ropes and mmphing in her gags. The plane's ready to start, so Sara is loosed from the chair, but she's still bound hand and foot and double cleave-gagged. The pilot carries her (the second bondage carry in this video!) to the plane for her flight to the slavers!
| | |
| --- | --- |
| June 21, 2022 | Natasha Flade Hogtied Barefoot & Tapegagged in Sweater Bondage for Using Toes to Dial 911 (FULL HD - 15:30 min) |

NOW IN FULL HD! Natasha Flade has been abducted in her jeans and sweater. Her captor has her strictly tied up barefoot in sweater bondage on the floor. She's bound hand and foot with her wrists tethered behind her at her waist. More rope is tied about her chest and at her knees. Natasha is very tightly tied-up! Natasha pleads to her captor to please let her go. But he just leaves her there. All alone, Natasha struggles hard and cries out for help. But her captor hears her and returns. Natasha pleads that her bondage is too tight and begs again to be released. Instead of letting her go, the kidnapper decides to stop Natasha's annoying whining by gagging her. He whips out a big roll of duct tape and layers several strips across her lips, then leaves to attend to some business.

Now Natasha is mmphing up a storm while she struggles hard. Then she spies her cellphone near the sofa. Frantic, she struggles, rolls and scootches herself until she manages to get close to the phone. She tries to use her hands to dial for help, but she can't see what she's doing with her hands tied behind her to her waist. It's pretty impossible to call this way, so she flips over to use her toes instead to dial 911 for help. It's quite an effort, but Natasha manages to call for help with just her toes! Quite a feat with her ankles bound! Once 911 has been dialed, she rolls back onto her belly and tries to talk through her tapegag into the phone.

But her captor returns and catches her! He grabs Natasha's phone away and hovers menacingly. He decides he'd better tie her up even more. He ropes Natasha into a strict hogtie with her elbows tied. She's hogtied so tightly that her hands touch her feet. Then he goes about his business, leaving poor Natasha hogtied barefoot and tapegagged on the floor with little hope of escaping.

Still she tries. As Natasha struggles frantically, we're treated to great closeups of her lovely soles and beautifully expressive damsel eyes. Poor Natasha doesn't know what's worse: her captor coming back or being left tied up like this for who knows how long. What a dilemma!
| | |
| --- | --- |
| June 13, 2022 | Maid Danielle Trixie Forced to Strip at Gunpoint, Tied Spread Nude & Fondled! (FULL HD – 11:30 min) |

NOW IN FULL HD! Blonde maid Danielle Trixie was dusting the coffee table, barefoot and wearing a cute, camisole top and denim miniskirt. A masked robber is sneaking up behind her with a gun in his hand! He's annoyed at finding her there. "I've been casing this joint for weeks! Who the hell are you?"

"I'm their new maid," Danielle says, trembling.

"Yeah, well, you've just ruined my day," the robber complains. "So now I'm gonna ruin yours, too!"

The intruder comes over and tells Danielle how cute she is. He has an idea to make this botched robbery go better! He orders Danielle to strip naked for him!

"No, please, don't," Danielle protests, but with that gun in her face, she has little choice. With much reluctance and the distress on her face apparent, Danielle slowly slips out of her bra, then covers her bare breasts with her hands because she's embarrassed and innocent.

"Come on, get the rest of it off!" the robber barks.

So she slips off her jean miniskirt and panties. Now she's standing in front of him totally nude! She still has her hands crossed over her tits to try to hide them. He orders her to turn around so he can get a good look at what a hot body she has! And on my, it really is one helluva body that Danielle has! He grabs her hands and binds her wrists together in front, then forces her to sit next to him on the chaise. He takes a cloth and stuffs it into her mouth, then she's cleave gagged with a long scarf wrapped over that. Next he grabs the maid's tied wrists, hauls them up over her head and attaches them to one of the legs of the chaise, out of reach. He grabs one of Danielle's ankles and ties it up over the back of the chaise, pulling her legs spread wide apart, her bare foot and sole now dangling on top of the chaise in plain view. Her other ankle is tied down below to a chaise leg, so she's tied spread and her legs really wide apart (with great shots of all her good parts!) Danielle's beautiful snatch is now exposed, making her even more vulnerable than she was before!

But this guy isn't finished yet! He sidles up next to his bound and gagged damsel and starts to fondle and grope her huge, natural tits. Danielle is upset, of course, but he tells her to be a good girl or else. The camera pans wide so the viewer can see all of her naked body while she's being fondled and groped. This guy just can't get enough of Danielle's body, and who wouldn't blame him?!

Eventually, he decides he should take off so he doesn't get caught. Poor Danielle is left all alone, bound and gagged, naked, on the chaise. She starts struggling once she thinks he won't hear her. The camera pans in for some close-ups of her beautiful, gagged face and bare feet and soles. Some body slides gives us even more great angles. This video is a dream come true for lovers of naked damsels in distress and of Danielle Trixie especially.
| | |
| --- | --- |
| June 7, 2022 | Violinist Loren Chance Chairtied, Nipple Pinched at Gunpoint, Forced to Call Off Symphony Performance! (FULL HD – 14:20 min) |

NOW IN FULL HD! Blonde Loren Chance is first chair violin for a symphony, and she has a huge performance tonight. She's in her formal dress, pantyhose, and high heels, just reading a bit before she plans to head downtown. But a man shows up with a gun! It's a home invasion! He says she will be a no-show tonight, then he grabs her and ties her hands behind the chair back.

Loren knows her rival has set this up, and she begs to be released so she can demonstrate her superior skills and win him over. He agrees she's excelsior, but he's here on a job. He needs the cash, and so Loren ends up knotted cleave-gagged and fully chairtied. Her ankles are tied together, then more rope is wrapped about her chest and thighs.

But the intruder goes a little further. He slips down the top of her formal dress, then peels down her bra cups, so now Loren's topless and he can grope her perfect tits. After a while of fondling those beautiful breasts, he removes her gag to make a phone call. It wouldn't due to have Loren just disappear tonight; she must call in and say she's too sick to make the performance.

Loren is quite literally under the gun, being threatened and her nipples pinched. So she says what she needs to, if only to get this slime ball away from her – and his roaming hands off her lovely tits. Satisfied with her performance on the phone, this man sent by her rival leaves the scene. Loren is free of the intruder, but not of the ropes, nor the gag. She struggles. Maybe she can get loose in time and catch an Uber? We shall see!
| | |
| --- | --- |
| May 30, 2022 | Lazy French Wife Morgane Paris Tied, Tapegagged & Tickled for Husband's Reprimand! (FULL HD - 12:20 min) |

NOW IN FULL HD! French wife, Morgane Paris, is so demanding and lazy and her husband, Isaac W., has had enough of her crap! He finds her lounging (again!) on the recliner, barefoot in jeans. When she wants him to wait on her, Isaac loses it! He leaves the room, but returns with a pile of ropes! He grabs his lazy wife and starts tying her to the recliner! He binds her hands in front, then her ankles and thighs are tied up next. Lastly, he attached her wrists to her thighs for a seated ball-tie.

Morgane's complaining the whole time. She just won't stop with the yapping, but he fixes that! This wife of his is going to learn some manners! She's handgagged while he produces a roll of duct tape and slaps several strips across that whiny French mouth. Ah! Some silence finally. Now that he has Morgane tied up and tapegagged, he pulls her top up just to make her angry that her tits are out! Isaac thinks it's fun listening to her feeble protests from behind her tape gag.

But he thinks more is needed to make sure his demanding and lazy wife learns some obedience to her man! He grabs her cute, bare feet and ropes them together around the arches. Then, on a sudden urge, he starts tickling her pretty soles while Morgane wriggles and struggles. She tries to yell out through her duct tape gag, but Isaac just laughs and tells her what a great time HE is having! "What?" he says. "You're not having fun? You're in your favorite recliner, the one you like to sit your ass all day on!" Then he leaves her there, tied up barefoot and topless. Angry, Morgane starts to struggle. But hey, at least he left her on her favorite recliner!

Includes great outtakes at the end! Real-life chatting and behind-the-scenes of a Centaur Celluloid shoot.
| | |
| --- | --- |
| May 23, 2022 | Supermodel Emily Marilyn Roped, Nipple Pinched & Spanked by TWO Guys! (FULL HD – 13:10 min) |

NOW IN FULL HD! Supermodel beauty Emily Marilyn was trying to light the fireplace when two intruders stroll on in! Emily's grabbed and handgagged by one man while he instructs his partner to grab some rope and start tying her up. First her wrists are roped behind, followed by her ankles. Next, her elbows are tightly bound. Then she's gagged with a really thick cleave.

The two intruders sit Emily down on the hearth and interrogate her about some goods they're after. When she doesn't comply, they strip her topless and set to groping her lovely tits, pinching and twisting her nipples, trying to force the information out of Emily with some nasty titty and nipple torture! But she still doesn't tell them what they want to know, so they bend her over a chair, pull her skirt up and rip her panties down. One man holds her down and gropes her huge breasts while the other guy spanks her perfect naked ass.

The men leave to search for valuables to steal. Poor Emily is left alone to struggle, tied up topless and barefoot on the floor, her bare ass red from being spanked, her lovely bare feet and soles wriggling all about. But the two intruders come back. They lift Emily up and carry her off with them, still bound and gagged!

Redhead beauty Emily Marilyn is barefoot and wearing a skirt and camisole top for this bondage video.
| | |
| --- | --- |
| May 17, 2022 | Barefoot Loren Chance Victim of Home Invasion! Hogtied & Groped by Masked Robber! (FULL HD – 10:40 min) |

BAREFOOT HOGTIED BONDAGE NOW IN FULL HD! Loren Chance sits at the dining table, reading, feeling cozy barefoot and wearing her sweater. In sneaks a masked intruder! It's a home invasion! He cups his hand tightly over her lips. As she's handgagged, he tells her to do what he says. He stands up the scared lass, and ropes her hands behind her. For extra security, her binds her elbows, too. Loren looks so fine in her sweater bondage! A wad of cloth is stuffed into her mouth as Loren tries to turn away. But soon she's stuffer-gagged and cleave-gagged.

He tops is pulled down and the intruder runs his hands over Loren's breasts as she squirms. She's forced to the floor and folded into a tight hogtie, her bare feet wriggling helplessly in the air. Now truly helpless, hogtied and gagged, the intruder takes a few more liberties in groping her perfect breasts. There's not much squirming room now!

The masked man tires of his beautiful captive and goes about the business of ransacking. Loren Chance goes about the business of struggling to get loose of her hogtied, barefoot, sweater bondage! Closeups of her pretty face and lovely soles are very enticing. Wide angles of Loren's struggles from above, in front, and the side highlight everything wonderful about a hot woman hogtied!
| | |
| --- | --- |
| May 10, 2022 | Secretary Natasha Flade Chair-Tied & Groped at Gunpoint by Stocking-Headed Robber (FULL HD – 14 min) |

RE-EDITED IN FULL HD! Secretary Natasha Flade is in her bedroom, having just gotten home from the office, when an stocking-headed robber with a gun comes barging in! He rushes Natasha and grabs her! She's handgagged and forced onto an office chair which he drags into the room. The intruder ties her hands together behind the chair back, then her ankles are tied and attached to the chair base. (Great shots of Natasha's red high heels here!)

But this secretary needs to be silenced, so the robber cleave gags her with two wraps of a thick scarf. Now to finish up his business of getting Natasha strictly tied up to that chair. More rope is wrapped about her lap and chest, then he ties her thighs together.

Before he attends to his business of robbing the place, the intruder decides to have a gander at Natasha's lovely tits. So he rips her blouse open. Damn, she doesn't even wear a bra! Makes things easier at least. Now he toys with his topless office babe, groping her tits, pinching her nipples and even tormenting her tits with his gun! Natasha cries and moans, but it's all muffled by that scarf she's been cleave gagged with.

Those breasts are hard to pull away from, but eventually this stocking-headed dude decides it's time to move onto his business of robbing the house. Secretary Natasha is left alone in her bedroom, chair bound in her office skirt and blouse and those red-hot, 5-inch spiked high heels! She starts to struggle in her bondage, scootching her chair about as best she can. But he tied those ropes too tightly and it's hard to move with her heels tethered the way they are. Will our poor secretary get loose before this weird-looking robber returns and starts groping her again — or worse?
| | |
| --- | --- |
| May 3, 2022 | Office Girl Danielle Trixie Chloroformed, Dragged Down Hall & Hogtied in Heels While Unconscious! (FULL HD – 12 min) |

RE-EDITED IN FULL HD! Blonde office girl Danielle Trixie is coming home from work when she's jumped and chloroformed by a hiding home intruder! Danielle fights and struggles before finally succumbing to the fumes. The captor drags the unconscious Danielle down a long hallway by her arms. Once he has her in the bedroom, he ropes the unconscious damsel into a tight hogtie. First her wrists are bound, followed by her ankles, then her heels are hauled up and attached to her tied hands.

Then Danielle begins to stir. She's terrified to find herself hogtied on the floor, but she doesn't get to say much before she's cleave-gagged with a long knotted scarf wrapped twice between her lips.

He leaves the pretty damsel alone for a bit to struggle bound and gagged on the floor in her skirt and high heels. But soon her captor returns. He strips his captive topless and fondles and plays with her lovely, large tits. Danielle mews and mmmphs and tries to escape his grasp. Eventually, he leaves once more and poor Danielle is all alone once more to struggle, now hogtied topless on the bedroom floor. There's lots of great angles, including overhead and close-ups of her heels, her hot ass poking out behind and upskirt shots, too!
| | |
| --- | --- |
| April 26, 2022 | Amber Michaels & Emily Marilyn Stripped Naked at Knifepoint & Wrapped in Tape Bondage! (FULL HD – 12:30 min) |

DOUBLE DAMSEL BONDAGE NOW RE-EDITED IN FULL HD! Amber Michaels and Emily Marilyn are enjoying a cabin getaway when in stroll two men with knives! They're handgagged, then they're stripped naked, down to absolutely nothing! With both nude damsels now standing before them in all their naked glory, the two guys whip out rolls of duct tape and set to work getting these two hotties all duct taped up in serious tape bondage! Then the two goons layer strips of duct tape across both damsels' mouths.

The two tapegagged beauties are set down on the floor, their bare feet and soles on display, their big tits accentuated by the tape wrapped about them. The two intruders get behind the damsels and Emily and Amber's huge breasts are seriously groped. And groped some more. And even more. Yes, that's a lot of groping, but these fine racks are just too tempting!

Eventually, the two intruders leave the taped up ladies while they procure some wrist braces for their sore hands from all that groping and fondling. Poor Emily and Amber are left alone to struggle in futility on the cabin floor, naked and barefoot in their tape bondage. They roll about and the viewer is treated to lots of great closeups of their tapegagged faces, wriggling soles, and those amazing (and huge!) jiggling tits.
April 19, 2022

Barefoot Julia Faire Bent Over Table, Cleave-Gagged, Stripped Naked!
(FULL HD - 11:30 min)

BAREFOOT BONDAGE RE-EDITED IN FULL HD! Julia Faire, home invasion victim, is forced to kneel at the edge of the coffee table, hands already tied up behind her, her pretty mouth cleave-gagged. The masked man forces her down, her bare tits pressed against the glass, and he binds her bare feet together (closeups of her soles!). Her thighs are tied and tethered to a leg of the table. Another rope winds bout her chest and is attached at the far end of the table so Julia is completely immobile.

Her captor pulls up her skirt and pulls down her panties. Stripped naked, we see what a lovely ass and pussy she has! Her buns and thighs are spanked and fondled. Her captor leaves for a few minutes so damsel Julia struggles and mmphs through her gag. She gets no where.

The captor comes back. He wants to take her with him! He unties her from the table but leaves her feet and hands still bound, her mouth still gagged. She's picked up and carried away!
| | |
| --- | --- |
| April 12, 2022 | Natasha Flade Stripped Naked by Furious Neighbor, Chairtied & Panty Gagged! (FULL HD – 12 min) |

RE-EDITED IN FULL HD! Housewife Natasha Flade is doing a bit of house cleaning in her living room in her little shorts and cute hoodie. In storms her neighbor, Isaac W., a mean old asshole who never misses an opportunity to make Natasha's life a little miserable. He's yelling about her dog in his garden and then he just loses his shit and grabs poor Natasha. He yanks the zipper of her hoodie down and out comes her titties! He handgags her and proceeds to shuck off her shorts and panties!

He shoves the naked and scared Natasha down onto a chair and ties her to it. First, one hand to the side of the chair, then the other. He picks up her panties from the floor and stuffs them in her mouth! He wraps those panties in place with a long scarf. She's now panty gagged! Natasha mmmphs in fear! What will happen next?

He takes each ankle and ties them apart to the chair legs so she's chairtied naked, legs spread, her pussy out there for him to enjoy! Now helpless, tied up and nude, this shitty neighbor gropes and licks her tits. He's taking his time having fun with Natasha's awesome body! But some more bondage is needed. Chest ropes are added about Natasha's breasts.

Now to resume feeling up those titties! He grabs Natasha's breasts, squeezing and licking them, and letting her know he doesn't want any more disturbances coming from her place and annoying him. At last the furious neighbor has had enough of playing with Natasha's sweet bod. Satisfied she's keep herself under control, he stalks off. Housewife Natasha is left in naked bondage, chairtied spread and panty gagged with her own undies!
| | |
| --- | --- |
| April 3, 2022 | POV Bondage! YOU Are the Intruder! Star Nine Barefoot Hogtied & Groped by YOU! (FULL HD – 12:00 min) |

RE-EDITED IN FULL HD! This POV bondage video is shot entirely in point of view, so it's as though YOU are the intruder! You peek around the corner at Star Nine, who's all alone in the kitchen, puttering around in her shorts and little top, barefoot. You come up behind her and grab her! While you have Star handgagged, you order her to cooperate.

You spin Star around and bind her crossed wrists behind her back. But your captive is still making a fuss, so you spin her around again and clamp your hand firmly over her mouth once more. Then you take a knotted scarf and shove it between her lips for knotted cleave gag.

You force your bound and gagged damsel down to the hard kitchen floor. After staring at her a few minutes, you take more rope and bind her elbows together strictly. Her ankles are tied together next, then you grab your helpless damsel and roll her over onto her belly. You pull her shorts down, exposing her perfect, bare ass. Then you grab her bare feet and haul them up, attaching them to her wrists for a great barefoot hogtie with some really great shots of her soles — all from YOUR point of view!

Now that you have poor Star totally helpless and at your mercy, you pull her top up and give her tits a really thorough fondling! Eventually, you take off, leaving Star cleave gagged and mostly naked, all hogtied barefoot on her own kitchen floor. Maybe you'll return to have some more fun. After all, you've tied her much too tightly for her to get away…
| | |
| --- | --- |
| March 29, 2022 | Barefoot Housewife Natasha Flade Hogtied in Robe, Stripped Naked, Shows Soles! (FULL HD – 7:00 min) |

RE-EDITED IN FULL HD! Pretty housewife Natasha Flade is hogtied on the floor in her plush, red robe. She's barefoot and cleave-gagged. Our barefoot housewife struggles all around, her bare feet and soles wiggling all about (with lots of closeups!) She's trying her best to get free before the home intruder returns, but she's not getting anywhere.

But eventually her captor returns! Natasha grows frantic when she sees him coming, but he tied those ropes too tight for her to do anything to stop him. The intruder kneels down and turns Natasha over. "You didn't get loose yet? That means I get to see you naked!" And so he does. He opens up that red robe, and we're treated to Natasha's glorious nude body! He grabs her tits and gropes and fondles those beautiful breasts. Then he sucks Natasha's nipples, strokes her naked body, rubbing his hands along her thighs and that amazing bare ass.

Our helpless housewife mews through her cleave gag and squirms beneath his touch, but in the end, she's left there all alone, hogtied barefoot on her own bedroom floor and struggling in her inescapable barefoot bondage. There's closeups aplenty of Natasha's beautiful, gagged face, her naked tits and ass, and, of course, those lovely soles, wriggling deliciously everywhere!
| | |
| --- | --- |
| March 22, 2022 | POV Tape Bondage! Candle Boxxx All Duct Taped Up & Tapegagged by YOU! (FULL HD – 10 min) |

RE-EDITED IN FULL HD! YOU Are the Intruder! This creatively shot tape bondage video is an immersive POV bondage experience where YOU are the one taping up the helpless damsel, Candle Boxxx! You come into the kitchen to find Candle busy putting away the dishes. She's barefoot and wearing jeans and a red blouse. You sneak up and handgag her, then wrestle her to the floor.

You then flip Candle onto her belly and force her to cross her hands behind her so you can tightly wrap them together with duct tape. Next, you tape her ankles together, her bare feet wriggling in the air. You sit your captive up and pack her mouth with a large wad of cloth, then layer several pieces of tape over it. Those fantastic tits come out next as you unbutton Candle's top. Even though her fabulous boobs are distracting, you resume your task at hand and wrap more duct tape around her torso and below her breasts.

With Candle now all taped up and tapegagged on the kitchen floor, your hands are free to do a lot of wandering as you play with her big tits. And you're groping constantly! You enjoy watching the blonde babe squirm and struggle on the floor in tape bondage. Her bare feet and soles wriggle about, a pleasant sight for your eyes. And Candle's wide damsel eyes are simply amazing as she mmpphs from behind that huge packing gag! This video includes some 2- camera views/angles as well! Enjoy your POV bondage experience!
| | |
| --- | --- |
| March 15, 2022 | Secretary Emily Marilyn In Stockings Tricked into Bondage & Groped to Land the Job! (FULL HD – 13:45 min) |

RE-EDITED IN FULL HD! Hot, redhead Emily Marilyn is interviewing for a job with executive boss, Sergio. She's really desperate to land this position and made sure to arrive all dressed up and sexy as hell – spiked high heels, a sweater dress and thigh-high stockings. Emily makes it very clear to executive Sergio that she's willing to do anything to land the position.

Sergio is definitely intrigued! He admits that he has a little fetish – he likes bondage and he'd really love to see Emily all tied up and gagged. He knows this is a little out of the ordinary, but it would sure increase her chances of landing this job. Emily decides to go along, not really understanding exactly what she is getting into. So Sergio grabs some ropes and ties Emily bent over a chair, her hands bound behind her, her stocking-clad thighs tied to the chair legs. Sergio even gives the naive Emily strict elbow ties!

Now this damsel is really in quite a pickle. She just let some strange man tie her up to a chair! But it gets even worse for our redhead secretary. Sergio pulls down the top of her dress and extracts her tits. Then he starts groping and fondling those amazingly big breasts! Next, he pulls down her panties to expose that sweet, bare ass! Emily is now growing frantic and protesting vehemently, so Sergio decides to shut her up by gagging her with a two-piece stuffer gag ensemble. She's not complaining now.

It seems that Emily has aced this interview and will get the job…or will she? Was it just a ruse to get her tied and gagged for Sergio's pleasure?
| | |
| --- | --- |
| March 8, 2022 | Snoopy Reporter Natasha Flade Forced to Strip at Gunpoint, Tied Strappado Naked in Just Heels (FULL HD – 15:40 min) |

RE-EDITED IN FULL HD! Reporter Natasha Flade is in her bedroom, making the bed when in comes an masked man with a HUGE gun and combat boots. This dude isn't fooling around. Natasha's been sticking her nose where it doesn't belong and he plans to take care of this snoopy reporter once and for all. He holds Natasha up and orders tells her to lose that skirt and blouse. Then he tells her to ditch her bra and panties, too. Natasha is forced to strip nude! Now Natasha is standing there in her naked glory - except for her high heels!

The intruder grabs her wrists and ties them behind (great closeups here of her hot, naked ass!) A few titty feelies for the man before she's cleave gagged with a bandanna. He hauls her arms up and tethers them to the top of the posts in a strict, strappado fashion. Then her ankles and heels are tied apart to opposite posts.

Now for some fun with those titties! The intruder squeezes and fondles her breasts and sucking her nipples. (Great angles from below, looking up at Natasha's distressed face as she suffers all this titty torture!) The masked man grabs Natasha by her gagged face and threatens to come back for worse if she doesn't stay out of his business. Natasha nods in resigned agreement. Then this angry and wrong man grabs her pussy before he exits the room, leaving to struggle in this demanding strappado position -- nude.
| | |
| --- | --- |
| March 1, 2022 | Chloe Night Chairtied, Cleave-gagged & Fondled In Miniskirt by Stalker from Bar! (FULL HD – 11:30 min) |

RE-EDITED IN FULL HD! Blonde Chloe Night just got home from the bar. She's puttering around in the kitchen in her sexy miniskirt and strappy, high heels. Suddenly, in walks some strange guy that she met at the club . He thought they had made a connection, so he decided to follow her home. Chloe is incredulous and refuses his crazy advances.

But when she tells him to get the hell out, he tells her that he bought her a lot of drinks and he wants something in return! Not too much to ask for, is it? Chloe thinks it is, so she turns to leave. But this stalker dude grabs her from behind. He gives her choke hold around her neck and says she'd better cooperate. He forces Chloe to a waiting chair, then grabs a pile of rope and starts tying her up, all on-screen! Poor Chloe ends up quite thoroughly chairtied. Then she's cleave-gagged, also on-screen!

But this crazy stalker decides he's not leaving empty handed – literally! He pulls up Chloe's top, then peels her bra cups down to expose her lovely, creamy tits. He fondles those gorgeous breasts for a while before leaving his pretty victim all alone in her kitchen, bound and gagged, and struggling — as he readies the bed for more! Hey, did she really think some boobie feelies is enough to pay off all those drinks he bought her at the bar?!
| | |
| --- | --- |
| February 22, 2022 | Busty Natalie Minx Taped Up, Tape Gagged & Groped by 2 Masked Men in a Home Invasion! (FULL HD 12:11 min) |

RE-EDITED IN FULL HD! Two masked home intruders sneak into the house of Natalie Minx as she's reading on the sofa, barefoot and wearing jeans. She's handgagged, then the other dude slaps a ready piece of duct tape over her lips! Now tape gagged, they wind more tape around her wrists. Once her arms are tape-bound, even more tape is added to her gag. Her legs are stretched out with her bare feet and soles pointing in the camera lens, and she's seriously taped up more! Almost a mummification!

Natalie's sat up straight and more tape is applied above and below her big tits. Her boobs are extracted from her top, and the two masked home intruders have some fun groping and fondling her amazing breasts. But that's not fun enough for these guys! Natalie's stood up, her pants and thong panties are pulled down. Her perfect ass is squeezed and spanked. Then Natalie is bent over the sofa and both dudes play with her remarkable ass, her soles in the camera again, too!

Then they decide to carry this taped up damsel with them. So Natalie is picked up and carried down the hall!
| | |
| --- | --- |
| February 15, 2022 | Natasha Flade Chair-Tied Barefoot In Jeans & Groped by Masked Home Intruder! (FULL HD – 6 min) |

RE-EDITED IN FULL HD! Natasha Flade has been abducted by a masked home intruder! He has the damsel tied up to a chair, barefoot and wearing jeans and a tank top. Her wrists are bound to the chair arms, her bare feet are roped together and tethered to the rungs beneath. Natasha looks around frantically, wondering where her captor has gone to and what he plans to do with her. She struggles hard, pulling at her bonds. But she's not able to get loose before the masked invader returns.

He approaches and adjusts the knots on her chest rope. Then he forces Natasha to open her mouth wide and stuffs it full with a cloth. The packing gag is held in place with a long scarf for a cleave gag over that. The home intruder puts his face close to Natasha's gagged face and whispers into her ear before pulling her tank top up to get a good look at those nice tits of hers.

He's not disappointed by what he sees! But he wants more than to just look, so he starts groping her breasts. He even sucks on Natasha's nipples while she writhes and moans from behind her gag. She's quite distressed as he continues to grope and fondle her breasts. After a while, the masked man leaves her alone for a bit, threatening to return.

Natasha takes advantage of his absence! She struggles hard in her bondage, rocking that chair up and down and nearly breaking it! While she's trying to escape, we get some great close-up angles of her bare feet and soles in a unique, below shot. There's also great close-ups of her cleave-gagged face and roped-up tits, jiggling ever so nicely as Natasha hurries to make her escape before the masked home intruder makes good on his word and returns for her!
| | |
| --- | --- |
| February 8, 2022 | Wife Amber Michaels In High Heels Chairtied, Tapegagged, Groped, Bent Over by 2 Men for Ransom Video! (FULL HD - 22:19 min) |

RE-EDITED IN FULL HD! Wife Amber Michaels (in high heels and dress) has been abducted by two men to ransom off. She's carried into the room, bound hand and foot and cleave-gagged. They set her down, then more rope is applied until she's strictly chairtied with elbow ties. Then the noisy rich housewife is tape-gagged.. With this hottie with the big tits now tightly tied up and gagged, the two men attend to their business of kidnapping and making a ransom video to send off to Amber's husband.

When the men leave to send off the ransom tape, Amber struggles in that chair to free herself before the kidnappers return. But she doesn't succeed and, eventually, the men come back, saying they haven't heard from her husband. They decide another ransom video is in order, this time with the pretty wife topless in her bondage!

So her dress is pulled down and those huge tits groped as an extra message for that no-show husband of hers! They take turns groping Amber's amazing breasts. Surely, they'll be paid now, they think. They leave to send this new video off, leaving our housewife struggling in her bondage, chair tied topless in her dress and high heels, her eyes damsel wide, her big tits jiggling everywhere! Will that husband of hers ever pay up or is he leaving her to the whims of these two ruthless captors?

More needs to be done to encourage the hubs to pay! So these two guys decided to make the next video look a little rougher. She's untethered fro the chair, stood, then bent over it! Her wrists are bound to the top of the chair back. Her thighs are roped to the chair legs. Amber's dress is hiked up to expose that juicy naked ass of hers! Poor Amber struggles as the men joke about how no one is coming to pay the ransom and they just might have to make her work it off while they take turns on her! When they finish their ransom video, the helpless wife is left tied topless and bent over, ass-up, and now naked, bit tits pressed to the chair seat. Amber struggles in vain to escape her bondage predicament, even rocking back and forth on the chair! Great shots of her pussy and (and really fine) ass!
| | |
| --- | --- |
| February 1, 2022 | Big Tits Kordelia Devonshire Handgagged, Chairtied, Cleave-Gagged, Stripped Topless, Groped! (FULL HD – 11 min) |

RE-EDITED IN FULL HD! Blonde and super-buxom (big tits! natural tits!) Kordelia Devonshire is handgagged and dragged to a chair. She's sat down roughly, her hands are tied crossed behind the chair back. Then she's handgagged again before she's cleave-gagged with a long scarf. Her ankles are bound together next (great closeups of her high heels!)

We cut to her captor, Isaac W., finishing up the knots on Kordelia's bondage. She's been tightly chairtied in her miniskirt and heels! She's left alone to struggle in those ropes and mmph from behind that gag.

But then her captor returns to hassle his busty damsel. He pulls down her top, then her bra cups to reveal those gorgeous, unbelievably-beautiful, all-natural breasts! Kordelia goes nuts at being treated so poorly, so Isaac handgags her on top of the gag as he sets to fondling and groping those big tits of hers. He just can't get enough of feeling up those amazing and huge breasts!

Kordelia tries to resist, but she's roped too tightly to that chair! Eventually, and with a smile after having so much fun feeling up those amazing tits, Isaac leaves his buxom damsel all alone. But Kordelia's not quite tired out yet, so she goes for getting loose, her huge tits jiggling as she does so!
| | |
| --- | --- |
| January 26, 2022 | Secretary Natasha Flade Handgagged, Stripped & Groped, Chairtied & Cleave-Gagged in Kitchen! (FULL HD - 12:19 min) |

RE-EDITED IN FULL HD! Isaac W. barges in on secretary Natasha Flade (in skirt, pantyhose, high heels) as she putters about in her kitchen. He arm-locks her around the neck, claiming she got him fired and now he's out for revenge! He ties her hands behind her back as she protests. She's cleave-gagged to stifle her complaints. Natasha's blouse is unbuttoned and her bra slid down so she's tied up and topless, her tits out there for groping. She's still noisy so she's handgagged over her gag and the fondling continues. He even sucks her nipples! He undoes her her skirt so it drops to the floor and we see Natasha's pink panties!

Isaac pulls out a chair and forces her to sit as he binds her ankles (fun closeup of her high heels!) Her thighs are bound and then her chest, ropes tight above and below her breasts. She's groped and fondled even more. She's teased and humiliated as she sits there, helpless, chairtied. When he's done, he leaves her there to struggle chairtied in her tight bondage.
| | |
| --- | --- |
| January 17, 2022 | Banker's Wife Emily Marilyn in Hot Stockings Tied Up & Stripped by 2 Masked Men for Ransom Video! (FULL HD - 13:32 min) |

RE-EDITED IN FULL HD! Hot banker's wife, Emily Marilyn, is in her sexy thigh-high stockings and garters as she's putting on her clothes to go to work. Suddenly two masked men with knives barge in! One grabs Emily and keeps her tightly handgagged while the other ties her wrists together. Then the two intruders grab some scarves to wrap through her lips. The scarf is tied so now Emily is tightly cleave-gagged. Then the two men throw their bound and gagged hottie onto the bed, where she's tied up stretched out on the bed, her heels tethered to the foot board, her hands bound above her head to the opposite end of the bed.

The masked intruders rip off Emily's lingerie, exposing her pussy and tits! They make a ransom video to send off with their demands for a ton of money to her rich banker husband. They take turns posing with their bound and gagged captive, laughing and threatening Emily as they run their hands along her breasts and legs. They're giving her husband lots of incentive to pay up. They're having way too much fun with their beautiful hostage!

The men leave to send their ransom video off. Now the waiting game begins and Emily is left alone to struggle in her bondage until the ransom money comes through. As she wriggles about, her high heels dangle from her toes before falling right off, giving the viewer great closeups of her pantyhose-clad feet!
| | |
| --- | --- |
| January 11, 2022 | Hot Housewife Natasha Flade Nabbed by Robber, Tied Up & Cleave-Gagged Naked in Kitchen! (FULL HD – 11:16 min) |

RE-EDITED IN FULL HD! Hot housewife Natasha Flade is fresh from a shower in just a towel, puttering about the kitchen. In comes a robber, Isaac, and hangags her. She thought she locked her doors! But here he is, hand over her mouth and telling her to shush and put her hands in front of her. Her wrists are bound, and a bandanna is produced to gag her with. Once cleave-gagged, her captor allows that towel to hit the floor and Natasha is there, tied up and gaged, totally naked!

Her tits are groped before she's placed on the floor and her bare feet are bound. Her hands, tied up in front of her, are connected to her feet. She's now pretty damn helpless. This poor housewife is groped some more! She's rolled onto her side and Isaac's hands run over her ass and thighs and even diddles her pussy some!

Well, Isaac has to get to this robbing business, so poor Natasha is left alone in her naked bondage on the kitchen floor. She struggles against her ropes and mews through her gag! We get some great closeups of her bare ass, lovely soles and knotted cleave-gagged face!
| | |
| --- | --- |
| January 5, 2022 | Secretaries Star Nine & Natasha Flade Chloroformed & Tapegagged After the Office (FULL HD – 17:30 Min) |

RE-EDITED IN FULL HD! Secretaries Star Nine and Natasha Flade have returned home from a hard day's work at the office. They're sitting on the sofa in their office wear, chatting about their day. Star kicks her heels off and Natasha gives her tired, pantyhose-clad feet a little foot rub. Little do they know, but there's an intruder (Isaac W.) hiding behind the couch! He sneaks up behind and chloroforms both damsels until they fall unconscious.

The intruder bends Natasha over and ties her wrists behind her back while she's knocked out cold. Then he props her up in a seated position on the sofa while he ties the unconscious Star's hands together. A roll of duct tape is produced and several layers firmly applied. As they're being tapegagged, our secretaries begin to awaken and stir. They start to panic! But it's no use. Ropes are tied about their ankles, then they're tethered to each other with two ropes at their thighs and elbows. The abductor rubs Natasha's thighs while she's handgagged and threatens to strip her naked! Star tries to kick the intruder in defense, but she's handgagged on top of her tapegag!

He leaves them to struggle for a while he attends to some kidnapping business. Star and Natasha manage to stand up, still tethered to each other, and try to escape by hopping away. But the captor catches them! They're handgagged again and dragged back to the sofa. Angry at their escape attempt, the intruder strips their blouses off, peels their bra cups down and gropes their tits. He informs them not to try to get loose again or they'll be in for worse!

But as soon as he's gone, they try hopping away and get caught and chloroformed again! He sets the unconscious damsels on the sofa. Maybe now he can finally attend to his kidnapping business. And so he does just that, leaving the viewer with great shots as the camera pans over our two sleeping secretaries, all tied up and tapegagged together on the sofa, unaware of the fate in store for them.
NEXT PAGE