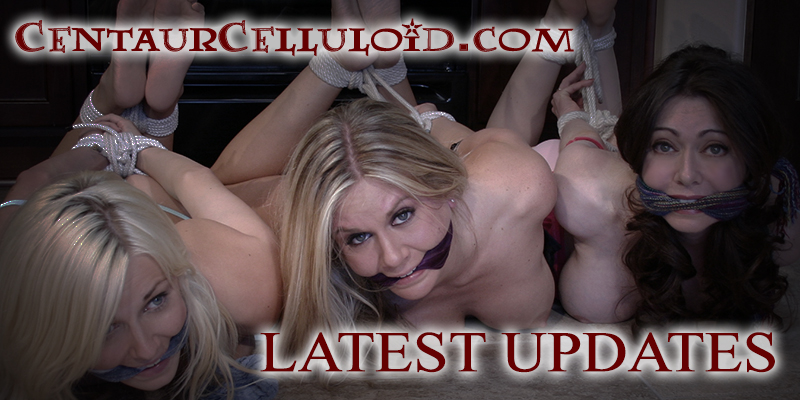 | | |
| --- | --- |
| September 26, 2023 | Revenge Bondage! Julia Faire Forced to Strip Nude at Gunpoint, Tied Spread in Heels for Getting Girlfriend into Porn! (FULL HD - 11:45 Min) |

FULL HD! Julia Faire wasn't expecting a visitor as she sat at home reading in her dress and high heels. But then comes in some guy with a gun! He accuses her of getting his girlfriend into porn. Julia denies everything, but he isn't buying it. He forces her to stand and strip nude at gunpoint. Reluctantly, she slips off that dress, then her bra, and finally her panties. Now she's standing before her assailant, totally naked except her high heels.

Julia is made to put her hands together in front of her so he can tie them up. As he's roping up the beautiful brunette, the assailant tells her that he's here for a little revenge. Since Julia got his girlfriend into porn, he's going to make a little porn video — starring Julia all tied up and naked! Hell, maybe he'll make a few bucks while he's at it. Once her hands are tied, she's cleave-gagged with a white scarf. Julia is forced onto her back on the chaise and her hands are tethered to one end of the sofa. Her ankles are roped apart (great close-ups of her heels here!), so now she's tied spread, Eiffel Tower style, showing off her pierced pussy and those fabulous tits of hers!

Now the making of the bondage porno begins! Her captor gets out the camera and slides his lens all over her beautiful naked body. He feels up her huge breasts, making sure to film lots of closeups of his hands groping her boobs. Satisfied with his revenge bondage video, he leaves the poor lass Julia Faire tied spread nude and gagged, struggling and mmphing for release!
| | |
| --- | --- |
| September 19, 2023 | Cheating Husband Ropes Natasha Flade Into Hogtie After She Attacks Him With a Knife! (FULL HD - 12:30 Min) |

FULL HD! Natasha Flade knows her husband Isaac W. is cheating on her! She catches him on the phone with his mistress and freaks out, trying to stab him with a knife! Isaac grabs her and after some pretty hard wrestling, he manages to get her pinned down on the bed and the knife tossed aside. Natasha puts up one helluva fight, but he manages to rope her up. Using one knee to keep her pinned, Isaac ties her hands behind her, then her ankles are bound and she's folded up into a nice, tight hogtie. He grabs her heels and throws them across the room.

Now this is one pissed off wife, but given the situation, she tries to convince the cheating scoundrel that she wasn't really going to stab him. Isaac doesn't believe her and says he should call the police since she can't be trusted with the dinner ware. Then he leaves to find something to shut her yap. A scarf is stuffed into her mouth, then a huge ace bandage is wrapped on top for added sound proofing. Ah, blessed silence at last! But he gives her a strict elbow tie just for good measure.

Now Isaac is actually starting to enjoy his wife. She's much better to be around all hogtied and gagged on the bed! He pulls her blouse and lacy bra down, commenting that maybe she's the one who's been cheating what with being all dressed up like she is in her sexy lingerie and pantyhose. He hikes her skirt up, plays with her tits, pats her pantyhose-covered ass. He's having a grand ole time with his now complacent and submissive wife.

After Natasha threatens to take him to the cleaners (assuming she ever gets loose), Isaac confesses that he's been cheating on her because she's a total bitch. But maybe this here lesson will teach her how to properly treat her husband. Then he leaves her there after telling her he'll be sending his friend over to have his way with her!

Based on true events, the names of the individuals have been changed to protect the not-so-innocent.
| | |
| --- | --- |
| September 12, 2023 | Anastasia Pierce Robbed at Breakfast, Tied in Nightie & Molested by Natasha Flade with Her Gun! (8:18 Min) |

Classic Bondage Re-Edtied from the 2007 Source Tape! Improved Color, Sound & Quality! This is some great vintage footage of Anastasia Pierce from back in the days when she was a superstar, not yet a legend. The video begins with Anastasia Pierce having breakfast, barefoot in her nightie, when Natasha Flade storms in with a gun and some stern orders. She orders Anastasia to the floor and binds her wrists behind her. Then she forces a huge cloth into Anastasia's mouth and ties it tightly into place with a thin cleave-gag in a really great gagging scene.

Having more rope on hand, you get to see all the on-screen tying as Natasha binds Anastasia's wrist to the dining room table leg, then more rope is wrapped about her ankles and thighs. Now poor Anastasia is bound seated on the floor, her bare feet sticking out, her soles on display. She's not going anywhere! Now she's completely helpless and at Natasha's mercy! And Natasha is ruthless!

She threatens Anastasia with the gun a few more times to make sure that her captive will obey and keep quiet. Then she pulls out her enormous tits and molests the poor girl! Natasha even torments Anastasia by holding a gun to her tits and threatening to blow those gigantic boobs off!

Outtakes at the end!
| | |
| --- | --- |
| September 6, 2023 | POV Bondage! YOU Are the Intruder! Julia Faire Ball-Tied, Packing Gagged & Molested In Nightgown by You! (12 Min) |

NOW IN FULL HD! In this POV bondage video YOU are the intruder! Gorgeous Julia Faire is in the kitchen, barefoot in a long, silk nightgown. You sneak up behind and handgag her, then force her to do your bidding! She crosses her hands behind her back and you tie them tightly. You strictly rope her elbows together next, then force her to the floor and bind her ankles. You stuff her mouth with cloth for a severe packing gag, with great closeups of Julia's damsel eyes as you take hold of her gagged face. Next you attach a rope from her knees to the back of her neck and fold her up so she's half ball-tied.

You step back to admire your captive, helplessly bound barefoot on the floor beneath you. You circle her, then kneel next to her and strip down the top of her nightgown, then peel back her lacy bra cups.You take your time fondling her large, beautiful tits. You remove her gag to get her to tell you the code to the home safe. You grab her by the face and she confesses. Then you stuff the cloth back in and retie it — gagging her all over again!

You run your hands up and down her thighs, pulling her nightgown up to get a gander at her panties. Julia's big tits jiggle as she struggles to get away from your roaming hands. But her bonds are too tight and she's left there all alone to struggle in her bondage, feeling quite violated.

This home intruder video is POV bondage at it's finest with some B-roll footage of both the captor and captive!
| | |
| --- | --- |
| August 30, 2023 | Double-Gagged Wife Natasha Flade Carried in for Ransom, Tied Up Strappado in Heels, Stripped & Groped! (12:15 Min.) |

Classic Bondage Re-Edtied from the 2010 Source Tape! Improved Quality! Wife Natasha Flade has been kidnapped for ransom! She's carried, already tied-up and double-gagged, into a garage hideout, fireman-carry style, her cute ass peeking from beneath her miniskirt. She's stood up on her hot red high heels, then her captor (Isaac W.) ropes her strappado style from her bound elbows!

A threatening ransom call is made to her husband, who was supposed to get him a government job that never came through. Poor Natasha listens helplessly as Isaac tells her husband that he's keeping her until he gets that job. He tells Natasha to beg into the phone, but she's barely audible from behind that thick gag.

He gets her tits out, pulls down her miniskirt and thong panties. Her tits are felt up. Her perfect ass is groped and spanked. Isaac always was an ass-man. When he leaves, Natasha struggles in her bondage in this strange garage, with lots of great angles of Natasha's lovely bound body, her fine ass and tits, and that beautiful gagged face.

No job is forthcoming, so Isaac takes some photos of Natasha as incentive. But they're really just for him. Great whacking material and if her husband doesn't come through, he can sell these great bondage photos of his hot wife instead. Left alone once again, the strictly bound and gagged Natasha Flade struggles against the tight ropes, now practically nude and wondering what will become of her...
August 22, 2023

POV Bondage! YOU Chase & Hogtie Barefoot Danielle Trixie!
(FULL HD - 10:30 Min)


FULL HD! YOU are the intruder in this POV bondage video! You spy on beautiful Danielle Trixie as she's doing laundry in her t-shirt and panties. She spots you! And screams! She runs away and you give chase, all the way up the stairs and down the hall. You catch her in the sunroom, handgagging her and ordering her to be quiet.

You tie her hands behind her back. You gag her with a thick scarf wrapped between her lips twice. You tightly rope her elbows, then her ankles. You then make her stand up and pull off those panties! You order her pull off that top and bra, too. Now she's standing naked before you. You push her down onto the sofa and feel up those gorgeous boobs of hers. Marvelous!

You flip her over onto her belly and tie her feet to her hands for a nice, tight hogtie. You have a lot of fun with the naked, barefoot, hogtied and cleave-gagged Danielle Trixie. Closeups of her lovely soles, too! This immersive bondage experience is one you'll want to enjoy repeatedly. WARNING: Call 911 if boner lasts for more than three days!
| | |
| --- | --- |
| August 16, 2023 | Sexy Blonde Natalie Minx Led In, Bent Barefoot Over Table in Sweater Dress for Ass & Pussy Play! (FULL HD - 13 Min) |

FULL HD! Sexy blonde Natalie Minx is led into the living room, hands bound behind her and stuffer-gagged. Her captor shoves her over the coffee table, then she's bent over and roped down tightly to that table. Her legs are tied wide apart, her bare feet bound crossed with her soles in plain view. Rope is wrapped about her chest to keep her tethered down.

Now this masked abductor helps himself to Natalie's ass and pussy! Her dress is lifted up, her thong pulled down. Now that naked ass and the rest of her good parts are completely exposed and ripe for ravishing! Natalie's fine buns are groped and fondled, then the captor plays with her pussy and gets some finger fucking action in while he's at it. Satisfied with all this ass and pussy play, the captor leaves the room. Our sexy blonde damsel is left all alone to struggle in her bonds with great views of her bare feet and soles, that lovely ass and all the rest of her exposed most private parts.

Natalie writhes and struggles, mews and mmphs behind her gag, but she's not going anywhere! And that masked abductor is lurking somewhere in the house, surely coming back for another go at her ass and pussy…and maybe more!

Busty blonde Natalie Minx is barefoot and wearing a short sweater dress in this damsel action video!
| | |
| --- | --- |
| August 8, 2023 | Natasha Flade in Heels Carried In for Ransom, Strictly Hogtied & Groped, Left Struggling Hard! (FULL HD - 8 Min) |

FULL HD! Natasha Flade is kidnapped for ransom in her white dress and high heels. She's carried in, bound and gagged, then tossed onto the bed where she's folded up and strictly hogtied with her elbows bound. Her captor pulls her panties off for a gander at that fine ass of hers. While he's at it, he gets some feelies in. Natasha's tits are sucked and squeezed. Natasha is mewing to please stop. But he's having a grand ole time with his ransomed damsel! She's ordered to be good or worse will happen, then he leaves her there.

Now abandoned and alone, poor Natasha is struggling hard to free herself from her bondage before her captor returns. She rolls, wriggles and writhes all about, fighting at her bonds and crying through her cleave-gag. We get some great point-of-view shots from in-front of Natasha's wide damsel eyes, her beautiful gagged face, and those high heels swinging in the background. The viewer is treated to lots of great views and angles. The camera pans her body with scintillating body slides. Natasha is simply delicious to watch all strictly hogtied in heels, her ass and tits on display! Now very much helpless, our poor damsel may never escape her bondage despite her intense struggling…

This bondage video from way back in 2011 hasn't seen the light of day since it's original release date. It's been re-edited from the source tape so you can watch it in all it's Full HD glory.
| | |
| --- | --- |
| August 1, 2023 | Danielle Trixie & Natasha Flade Forced to Strip, Tapegagged, Tied Nude Spread for Getting Sergio's Sister Into Porn! (FULL HD - 13:15 Min) |

FULL HD! Natasha Flade and Danielle Trixie are barefoot on the bed, enjoying a little chat, when a man with a gun (Sergio) bursts into the room and holds the two damsels up! He informs these two lovely porn stars that they got his little sister into the adult business and he's really angry! Sergio is out for justice! His darling little sister has been corrupted and he's going to make Natasha and Danielle pay!

The two beautiful ladies are forced to strip naked at gunpoint. Reluctantly, Natasha removes her slinky nightgown, then waits completely naked as Danielle is forced to strip off her t-shirt and boy shorts. Now Sergio starts tying both nude lades to the bed. Their hands are tied in front, then attached up over their heads to the bedposts. Sergio stuffs their mouths with cloth, then several layers of duct tape are applied on top on the stuffer gags to silence their whimpering and crying. Next, he ties their ankles spread wide apart, crossed over each other's legs, to the posts at the end of the bed. Natasha and Danielle are now both tapegagged and tied up nude, Eiffel tower style, their bare feet and soles (and all their good parts!) on display!

Now Sergio carries out his ultimate revenge! He calls his friend, Isaac W., to come over and "fuck these bitches." The two porn stars are horrified at this turn of events! They struggle desperately as Isaac strips off his clothes and hops up on the bed. He straddles poor Danielle while Natasha watches, helpless to stop what's about to happen.

Outtakes at the end!
| | |
| --- | --- |
| July 25, 2023 | Natasha Flade, Barefoot in Sundress, Chair-Bound & Groped While Captor Waits for Ransom! (FULL HD - 13:40 Min) |

FULL HD! Natasha Flade, barefoot in a little yellow sundress, has been kidnapped! She's securely chair-bound and knotted cleave-gagged. Beside her sits her captor, reading a magazine while he waits for the ransom to arrive. But no money is forthcoming, so he leaves the room to see what the deal is. While he's gone, Natasha struggles in that tight bondage, trying to free herself before her captor returns. As she does, we're treated to lots of great angles and body slides as Natasha fights her bonds.

But she isn't successful and the kidnapper catches her trying to get loose! He tells her no one is willing to pay for her return so far. Since he's stuck there with his bound and gagged captive, he may as well "get to know her better." Her family won't mind getting back some slightly damaged goods, he says. Her bandanna gag is removed, then he stuffs a large wad of cloth into her mouth with a thin scarf as a cleave gag to keep it in.

Now to have some fun! Certainly more entertaining than those boring magazines Natasha had at her house. He pulls down the top of her sundress. Her tits are fondled and groped. Her nipples are bitten and sucked. Natasha tries to fight him off while she's being violated so rudely! Then the kidnapper gets a better idea: to take her to the bedroom! Poor Natasha is left alone once more to struggle all tied up topless to that chair, her bare fee wriggling, her tits swinging, while she awaits her fate…
| | |
| --- | --- |
| July 18, 2023 | POV Bondage with TWO Damsels! Natasha Flade & Star Nine Hogtied Barefoot in Jeans, Tits Groped by Intruder: YOU! (FULL HD - 13 Min) |

FULL HD! This is an EPIC POV bondage video with TWO damsels! Shot with a hero cam, everything is through YOUR eyes! YOU, the home intruder, come in with a gun and find Natasha Flade and Star Nine in their kitchen. You hold the two damsels up and they follow your orders fearfully. You order them to turn around and cross their hands behind their backs. You bind their wrists, then each gets cleave-gagged with really thick scarves in their mouths!

You force Star and Natasha down to the floor and bind their bare feet together at the ankles.You lift up their t-shirts and fondle and grope their tits as they squirm, trying to get out of reach from your never-ending grasp. But they're not going anywhere just yet! You grab your bag of ropes and rope them into tight hogties. The POV gives you great shots of their bare feet and soles as you cinch their feet to their hands.

You play with their bound bodies some more as they writhe around and mew through their gags. This was a fun time for you! You won't be letting these lasses go anytime soon…

Both Natasha and Star are barefoot in jeans and t-shirts for this immersive POV bondage video.
| | |
| --- | --- |
| July 11, 2023 | Julia Faire Handgagged, Cleave-Gagged, Carried in Home Invasion & Stripped Nude! (FULL HD - 8 Min) |

FULL HD! Julia Faire sat at the dining room table reading as a creep creeped up behind her. She's handgagged and told to hush her cries! It's a home invasion! The beautiful brunette is forced to stand and her hands are bound together in front of her. A scarf with a HUGE knot is shoved in her mouth and tied behind her head tightly. Cleave-gagged, she mews in protest. Once her bare feet are bound, she's lifted and carried to the top of the dining table: She's make a nice treat!

One her belly atop the table, her hands are stretched out to one leg and tethered there. The same is done to her feet, with fab closeups of her lovely, wrinkly soles.With his captive now fully helpless, her top is pulled up. Julia's pants and panties are pulled down. The poor damsel is now fully naked before this stranger, who gives her bare ass a few spanks for fun!

She's left alone to struggle as the burglar leaves, supposedly burgling, but probably just around the corner, peeking at his gorgeous damsel as she struggles in her bondage. We are treated to the wondrous site of her bare, naked, wriggling ass, her tits and pussy and she wriggles onto her back, her gagged face, her soles!

Outtakes and bloopers at the end!
| | |
| --- | --- |
| July 5, 2023 | Housewife Natasha Flade Bound Barefoot in Robe, Double-Gagged & Groped by Home Intruder, Shows Off Her Soles! (FULL HD - 12 Min) |

FULL HD! Housewife Natasha Flade has been abducted by a home intruder! She's barefoot in her plush red robe, bound seated on a coffee table, hands tied behind her and ropes wrapped around her chest. Her assailant gags Natasha with two loops of a soft scarf. Once she's cleave-gagged, he binds her bare feet crossed to one leg of the table, so they're on full display. He tells her she's not going anywhere, so don't bother trying to get loose. Then he just leaves her like that.

But once he's gone, our pretty housewife tries her best to free herself. She struggles, tests her bonds, and mews and mmphs through her gag. The viewer is treated to great angles and closeups of Natasha's wiggling soles and her lovely gagged face. But then the intruder hears her and returns, complaining of the noise that his captive's making. Apparently, she needs more gagging or some sort of punishment to teach her some lessons in being submissive.

So the captor pulls Natasha's robe open, her nightie is pulled down so he can get at her tits. He plays with those fine titties before yanking her robe sash off and gagging her with that, too! Now back to those boobs! More fondling, more groping, more titty squeezing, and even some nipple licking and handgagging thrown in for good measure.

Satisfied with his lesson is submission, the assailant leaves once more, and our helpless housewife Natasha is left struggling, now topless and double cleave-gagged, for the rest of the video! This barefoot housewife is delicious to watch as she wiggles around, her soles pointing right into the camera and body slides showing off those fab tits and everything else!
| | |
| --- | --- |
| June 27, 2023 | Secretaries Natasha Flade & Danielle Trixie Chairtied in High Heels & Pantyhose for Ransom! (FULL HD - 11:30 Min) |

June 27 - (11:30 min.) FULL HD! Secretaries Danielle Trixie and Natasha Flade have been kidnapped for ransom! They're bound to chairs in a kitchen in their office dresses, high heels and pantyhose. Their wrists are tied separately to the chair arms, ankles tied together and tethered to the chair legs. Chest ropes keep them securely chair bound. Their captor, Sergio, is waiting for the ransom money to come in. But the two office chix are being way too noisy for his liking, so he cleave-gags both women on-screen (awesome closeups!). When he leaves the room, they struggle to get loose. We're treated to lots of great angles and body slides as the camera pans up and down these two hot tied-up secretaries.

But Danielle and Natasha don't succeed in getting loose before the kidnapper returns the news that it's going to be a few more hours of waiting. Since they're going to be spending some time together, he may as well have a little fun with his captives. He pulls Danielle's blouse open so he can get at her tits for some fondling. Danielle squeals and squirms while he squeezes her beautiful (natural!) breasts. Then he pulls down the top of Natasha's sexy red dress and has a go at her tits as well while Danielle looks on helplessly.

After having his fill of groping two pairs of boobs, the captor leaves once more. Left alone, our two secretaries, now chairtied topless, struggle in their office bondage. The viewer is treated to more great angles and closeups of our two damsels' bound high heels, their beautiful cleave-gagged faces and of course, those lovely jiggling boobs! And who doesn't want to see that?
| | |
| --- | --- |
| June 19, 2023 | Secretaries Natasha Flade & Julia Faire Tape Gagged and Tied Back-to-Back Topless In Garage! (FULL HD - 13 Min) |

FULL HD! Two sexy secretaries, Natasha Flade and Julia Faire, have been kidnapped and robbed! The captor has our two office chix tied back-to-back, roped to each other atop an open safe in a deserted garage. Their wrists are bound in front of each other's waists, the knots out of reach. Both damsels have been bound in their office attire: office suits, pantyhose and high heels. They've been tape gagged, too, their mouths having been firmly sealed with several layers of tape to silence and muffle their cries for help.

The two tied-up secretaries are doing their best to help each other get loose. But those ropes are just too tight for that! They put in a good effort, so much so that, half-way through the video, Natasha and Julia lose the tops of their dresses! Now our redhead and brunette damsels are topless, too! Julia's big tits are firm and it's especially pleasuring to watch their tits jiggle as they're struggling to free themselves from this bondage they now find themselves in.

There's lots of great angles in this pantyhose bondage video, including plenty of our two damsels' tapegagged faces, jiggling breasts and those sexy high heels! If you love your office babes bound and gagged (and topless!), this office bondage video will surely light a fire for you!
| | |
| --- | --- |
| June 14, 2023 | Bridesmaid Natasha Flade Kidnapped Before the Wedding! Tightly Hogtied in Pantyhose, Tits & Stocking-Feet Fondled! (FULL HD - 9 Min) |

FULL HD! Bridesmaid Natasha Flade was kidnapped on her way to the wedding! Now she's tightly hogtied on her bed in her bridesmaid dress and pantyhose. She's been cleave-gagged with a thick scarf. Abandoned and alone, Natasha struggles in her pantyhose bondage. The camera pans her body with lots of great angles and body slides. Her stocking-feet wriggle deliciously in the air as she fights her bonds.

Our helpless damsel struggles hard to free herself before her captor returs. She fights her bonds, rolls about, fighting at her bonds and crying through her gag. We get some great point-of-view shots from in-front of Natasha's wide damsel eyes, her beautiful gagged face, and those pantyhose feet swinging in the background.

Then the home invader returns! He pulls down the top of her dress, then he fondles and sucks on those perfect breasts. He pulls her dress up to get a few feelies in of her buns through her panties. He plays with her feet, then gropes those tits again. Natasha is mewing to please stop. But he's having a grand ole time with his tied-up bridesmaid! Eventually, he must leave and our damsel, now topless and very much helpless, is left there all alone to struggle some more, never to escape her bondage…
| | |
| --- | --- |
| June 6, 2023 | Actress Danielle Trixie Strips to Get the Role, Tied Nude Spread in Just Heels On Casting Couch! (FULL HD - 16 Min) |

FULL HD! Beautiful, blonde actress Danielle Trixie is meeting a producer to audition for a role. She arrives wearing a miniskirt and high heels, then makes herself comfortable on the casting couch (so to speak!). The producer, Isaac W., tells her that the role involves some nudity, then he requests that Danielle strip naked in front of him! Being innocent, Danielle complies with his kinky request, thinking it will land her the part.

She stands up and ditches her top. But Isaac wants that bra removed, too! Danielle is shy and embarrassed, but she really wants this role! So the bra is stripped off and cast aside. Then Isaac insists she take everything off! Danielle is reluctant, but she really wants the role, so she complies, stripping off her miniskirt and then her panties. Now she's standing there fully nude — except for her high heels! She turns about so Isaac can check out her fine ass.

Then it's announced he wants to tie her up, too. He promises her the role if she indulges him just a bit more. Danielle holds out her hands to be bound in front and sits down on the sofa. Next, a scarf is produced and she's asked to allow herself to be cleave-gagged. Danielle is getting nervous now. What exactly has she gotten herself into? She's sat back on the sofa, then her wrists are tied above her head and attached down to the couch legs. Her legs are tied to opposite ends of the sofa, so she's tied up spread, Eiffel tower style.

Poor Danielle is now totally naked, bound and gagged in nothing but her sexy high heels! She consoles herself that she'll surely get the part now. After all, what else could this dirty producer want her to do? Oh, plenty more! Once he has his starlet all tied up and gagged on the casting couch, he tells her his friends are coming over to fuck her to see if she's right for the part! Danielle freaks out and starts to struggle, but she's not going anywhere any time soon…!
NEXT PAGE